In its 53 year the Beaufort Water Festival has grown from a weekend of sailboat racing to become one of the Southeast's premier summer events and a major economic factor.
As many a 100,000 people may visit the area over the course of the festival's ten days, injecting millions into the local economy. Planning and organization are vital to the Festival's success. Each year that responsibility is handed over to a newly-chosen leader, the Commodore. Lowcountry Weekly's Mark Shaffer sat down with last year's Commodore and her successor to discuss what makes for smooth sailing on the often turbulent summer seas of the festival circuit.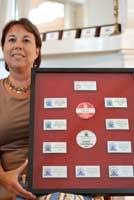 ERIN DEAN, Attorney (Tupper, Grimsley & Dean), 2007 Commodore.
The only "official" female Commodore, and just the second woman to head the Festival, says she nearly spent more time planning the event than practicing law during her tenure. She tells Lowcountry Weekly that the Water Festival is the epitome of community cooperation.
LCW: There seems to be a lot more to the Water Festival than just water these days.
ED: The focus when it started fifty some years ago were the water events. They had sailboat races, they had Jet Ski shows and they had a dance, and they called it a "ball" and people dressed in formal wear. I guess each new person who's come in as Commodore has added something. Over fifty-three years we're now a ten day festival that not only focuses on the water events but air shows, sports events, and probably what most people look forward to now – the night time entertainment.
LCW: How does one get to become Commodore?
ED: (Laughing) Lifts a lot of lumber and puts in a lot of time. It's a very interesting organization. I think the public in general have a misconception that the people who are on the Water Festival committee are actually in paid positions. They're not. It's all volunteer. From the person who takes your ticket on the way in to the Commodore – there are no paid positions. I first started volunteering thirteen, fourteen years ago helping to count T-shirts, then got a little more involved. Actually got my first button – I think – in '94 as the T-shirt chairperson then gradually moved up through the ranks. You get elected Commodore by all the past living Commodores.
LCW: Does the title come with any cool perks or privileges?
ED: Sure. Once you actually reach the Commodore level it's a very nice transition from doing the day-to-day heavy labor to being able to delegate some of those responsibilities…
LCW: Less heavy lifting.
ED: Less lifting of lumber, for sure.
LCW: It sounds as if you're working on this year round in some capacity.
ED: Exactly. The folks who are part of the WF committee – the Commodore, ten coordinators and about twenty directors who are involved in the year-long process. Once the festival ends, the committee takes a month off and then the new Commodore selects his coordinators and sets up his schedule and they start planning the festival in September. It is truly a year-long process. Probably September through December the Commodore and the coordinators are meeting about once a month and then once January rolls around it becomes twice a month, and by the time you hit April and May you're meeting every week.
LCW: It's like having another fulltime job.
ED: Absolutely. It is overwhelmingly time consuming, but it has a great payoff – to put on such a great show that so many people come down and enjoy.
LCW: Water Festival's been held up as a shining example of how a self-sustaining festival should work. Why?
ED: Teamwork. There are a variety of different skill sets the folks on the committee possess. Everyone who's part of the committee brings their everyday common sense to the table and then they work together as a collective unit, each using their strong suits to put on a great festival.
LCW: This is one of the oldest festivals in the state. How do you account for the longevity?
ED: What I think has happened over fifty years' time is that residents have friends and relatives they invite down to Beaufort to experience the summer, or college kids bring their friends home. I think that word just spreads. The festival provides the people who used to live here a great opportunity to come back and visit. You'd be amazed. My husband and I were in the airport in Belize and he had on a Water Festival shirt and someone came up and said "are you from Beaufort?"
LCW: What did you learn from your experience as Commodore?
ED: I think just the willingness of the people to come out and support Water Festival is amazing. The number of calls I got last year from people who weren't necessarily involved on the committee but were part of Beaufort and wanted to come out and volunteer… as I mentioned there's a core group of about thirty, but thirty people couldn't put on this event.
LCW: What was your favorite part of your experience as Commodore?
ED: My tongue-in-cheek answer would be not having to lift, but I think it's really a good culmination of a lot of years of hard work and watching the people you work with doing what they're good at doing and being confident you've selected the right people for you team.
LCW: A sense of satisfaction?
ED: Exactly. Exactly.

LES BREDIGER, Director of Military Programs, USCB.
The Commodore of the 53rd Beaufort Water Festival began as a volunteer installing fence back in 1984. In keeping with tradition, he'll pass the baton to his successor during the Commodore's Ball and looks forward to "being put out to pasture" after a challenging year in difficult economic times.
LCW: You're ex-military. If this were a military operation what would it be like?
LB: If it was a military operation we'd probably have a little less confusion…Working with volunteers is a little bit different. They all have jobs. They have families and of course those come first. Festival, however, is a year long process and it requires a lot of their time. So, in terms of brow-beating volunteers, you can't do that. You've got to lead them and bring them along.
LCW: What sort of hours does the average volunteer put into this?
LB: I would suspect that most put in anywhere from ten to fifteen hours a week, making phone calls to contacts they're going to need when Festival is in play. I'm probably working twenty-five to thirty hours a week, planning, setting up meetings, choosing coordinators, that sort of thing. The nice thing about it is there's a lot of continuity. There are a lot of people who have been around it a long time so you just sort of turn them loose and let them do what they do best.
LCW: So it's a self-sustaining system?
LB: It pretty much is. You'd think that after fifty-three years we wouldn't have any problems, but each year things that crop up that you've never dealt with before. We're probably one of the best groups I've ever seen at putting out fires. We've got folks on the Festival who know just about everybody in town. They can fix things when they go wrong and that's nice.
LCW: This is not like calling a caterer and booking a venue. It's involved.
LB: In terms of volunteers, there are literally hundreds. I'd say for the entire festival somewhere between four and five hundred. Military, civilian – all walks of life – they come in and support us. The city of Beaufort and the County have been great. Obviously the logistics for the park is a very big thing. We're very conscious of that simply because when we do rent that park it's ours. It belongs to us. It's a private get-together. But we want to make certain that we turn the park back over to them in the same shape in which they gave it to us.
LCW: So in essence this is a very big outdoor private party.
LB: Yes it is. The evening events are closed events – obviously, they're paid – but unlike other festivals, during the day all the gates are open and certainly the park is open to all the public. The craft market is there daily. They're lined up on the Promenade. We have croquet and badminton tournaments going on and all of our water and air events that are happening during the day. We only close the park up in the evening for the paid events, typically somewhere between 6 and 11:30 pm.
LCW: Anything new this year that hasn't been there in the past?
LB: No, I don't think there's anything new. We try to keep a fairly set schedule. We bring in different groups, obviously, in terms of entertainment, but we try to keep the schedule about the same.
LCW: If it's not broken, don't fix it.
LB: I think that's probably right and when you're dealing with such a huge event you know there are going to be issues and fires to put out. So, you don't necessarily want to generate your own…We usually try to take that ten days and make certain we have a little something for everybody.
LCW: How are sponsorships this year?
LB Sponsorships have been very difficult this year. When I set my budget back in August of last year I certainly had no idea that the housing industry would take such a bad hit and that in turn would impact the entire economy and gas prices went to four dollars a gallon. But still, I have to commend our sponsors this year. They have really stepped up to the plate. We had to go out and get some new sponsors this year because there were some who absolutely couldn't come back to us – and we understand that. We're certainly not going to cut them out of the loop next year.
LCW: By the time this is published the Chamber should have released an economic impact study on festivals in the county. We're hearing about forty five million for all the festivals.
LB: That's probably not far off. I don't know where we fit in in terms of dollar value, but I can tell you that if you go down and talk to the bars and the restaurants and hotels, they'll tell you that during those ten days of the festival they are slammed and business is very good. And we try to use local businesses to help in everything we do with the Festival. So the sponsor money we get in, if there's something we have to have done, we go to a local business to have that done for us and keep that money circulating in this community.
LCW: Who's coming to the festival these days?
LB: I think it's mostly South Carolinians…but since we've gone to these national acts for Concert in the Park – we've got Blake Shelton this year – we tend to see people from North Carolina, Georgia. It's a hub for country music fans and we've noticed a big upsurge in ticket sales – online ticket sales this year.
LCW: We understand there are special gates for online ticket buyers?
LB: There's a gate on the sea wall for those special sponsors…so those folks who have pre-bought those tickets will be able to get right in the park.
LCW: This [interview] will hit the streets two days before the Festival opens. What's happening then?
LB: We're going to be putting out little fires at that point…it's never perfect, but again that's the nice thing about having continuity in the Festival. When there's a problem, our volunteers know how to fix it.
LCW: Did you get any advice from your predecessors?
LB: (laughing) I got a lot of good advice from Erin Dean. She was a good role model.
LCW: Anything to pass on to your successor?
LB: Start early and make sure that they get on top of what they need to do.
Visit the official Water Festival website for advance ticket purchase and up-to-the –minute schedule changes: www.bftwaterfestival.com