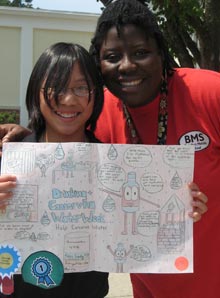 Beaufort-Jasper Water and Sewer Authority held its annual Poster Contest this Spring, in conjunction with the American Water Works Association's Drinking Water Week.
Nearly 500 fourth-through-eighth graders from Beaufort and Jasper County Schools participated in this year's contest. The theme of the poster contest was "Celebrate Water," drawing attention to the importance water plays in our daily lives. The grand prize winning poster came from sixth grader Thauney Vilayvanh, who is in Dee Dee Thompson's science class at Beaufort Middle School.
Drinking Water Week, and the poster contest, is held annually as a customer appreciation event, and to encourage citizens to learn about local water sources, water quality and water conservation.