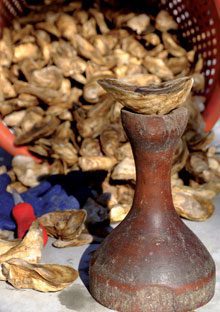 Frank Roberts might grow the world's best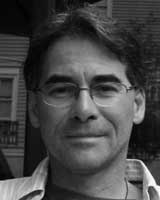 oyster right here in Beaufort. Now the world is about to find out.
Story and photos by Mark Shaffer
A good oyster smells like the sea breeze skipping over the shore. A bad oyster smells like a murder victim. I prefer the former. But I like how even the latter helps exemplify the essence of the interface: an oyster conveys its life experience directly to your senses.
Â
     – Rowan Jacobsen, from The Essential Oyster, a Salty Appreciation of Taste and Temptation, Bloomsbury Publishing, 2016
MAN ON A MISSION
In the fall of 2011 I heard about a local guy who, according to a contact at the South Carolina Department of Natural Resources, "is on a mission to revive the state's oyster industry."
Long story short: Frank Roberts was running his Lady's Island Oyster operation out of his
garage on Brown's Island. He was out to "build" a high quality, sustainable, single oyster. Back then the only singles we saw in restaurants around the region were either culled from wild clusters (the oyster's natural state) or shipped in from the Gulf of Mexico. Frank was convinced that our unique ecosystem with its unusually high tides and intense salinity was the most perfect oyster habitat he'd ever seen – maybe the best on the planet. Back then he paraphrased the line out of "Field of Dreams" to illustrate his point.
"If you build it, they will come," he said. "Grow a single oyster here and people will come. I just had to build it."
And build it he has with a carefully designed breeding program. Five years on Frank's Single Lady Oysters are something else entirely. The oyster I'm holding in my hand today bears little resemblance to its distant relative I first slurped down a half decade ago. Back then the shellfish were notably smaller and had yet to develop the deep cup Frank was after. But the flavor was there, in spades – that unmistakable rush of the sea over the palate and the very essence of the marsh. Today's Single Lady is definitely on the voluptuous side.
"It's about 75% meat to 25% shell," says Frank. "And it's a really nice shell, but just about opposite of what you get with a wild oyster."
These ladies are gorgeous indeed. The oysters are easily twice the size with a cup that is deep and full of what some consider to be the best oyster in the country, possibly the world. In fact, the whole operation's grown right along with the mollusks. Frank's moved his operation across the Whale Branch to the Seabrook Community and 18 acres of oak canopied waterfront along McCalley Creek. The property includes a hatchery operation that supplies seed to every grower in the state and parts of North Carolina. The oysters come right off of the boats, are sorted, graded and in the cold house within minutes. He's also added a well-used event space and partnered with his pal, Chef John Marshall of Beaufort's Old Bull Tavern, to add an open air oyster bar & fish house.
"It doesn't get any fresher unless you're on the boat," says Marshall. "We want to bring people out to experience this, enjoy Frank's amazing oysters and this view of the river, taste what the Lowcountry's all about and take that home."
The Chef knows oysters. He's eaten them all over the world and it's no accident he's a big fan of the Ladies, so to speak.
"They're as good as a Wellfleet or a Blue Point," he says. "And the best way to taste that is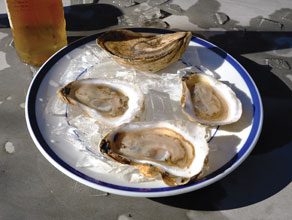 right here in its home."
Until recently there's been just one problem with that: very few people outside of South Carolina knew they existed.
"They all get consumed regionally," says Frank. Everything that comes out of Frank's leases on the Coosaw River are bound for some of the best restaurants in the Lowcountry. The lion's share goes to the top chefs in Charleston. Frank grows a special single called the Phat Lady. Outside of Frank's farm, you'll only find these in one place: Charleston's soon-to-be legendary oyster bar, The Ordinary. That's because Chef Mike Lata buys them all, reserving 40,000 at a time.
But the best kept secret in the world of oysters won't be a secret much longer.
Early in November a crowd gathers at Frank's farm to eat oysters prepared in just about every way imaginable and celebrate the publication of a book that's about to put this place on the map for mollusk aficionados the world over.
BOOK OF BIVALVES
Rowan Jacobsen is obsessed with oysters. He spends a lot of time thinking about oysters. He also spends a lot of time traveling to where oysters are and even more time eating them and pondering their briny nuances. He's authored seven books and dozens of articles for the New York Times, Harper's, Outside, Mother Jones, and many more. His first book on bivalves, A Geography of Oysters, won a James Beard Award. Publisher's Weekly called it "The ultimate macropedia for oysters." Some credit the book with helping to ignite the current New Age of the Oyster. His just published follow-up, The Essential Oyster, is a sumptuous guide to 99 types of oysters from the waters of North America and beyond that the Wall Street Journal calls "dazzling."
Roberts and Jacobsen met shortly after the first book was published and the oyster farmer took the writer to task.
"There wasn't one word about South Carolina oysters in it," says Roberts. "He didn't know we were here. So when he was doing the new book, he kind of owed us."
Jacobsen is one of those lucky bastards with the resourcefulness and wherewithal to travel the globe in search of the perfect bite and the talent to write about it in a way that makes you envious of him, but grateful for the vicarious experience. The new book raises the bar of that experience with the photography of David Malosh who's captured each variety in exquisite portraiture. You'll find the Phat Ladies looking particularly alluring on page 124. And on this early November evening both men and food stylist Adrienne Anderson are here to sample the ladies' charms first hand.
"We all agreed that when we did the book tour, this was the one place we had to come back to," says Malosh. "We're all just a little crazy about oysters. And these are something special."
Malosh and Anderson share a food-based photo studio in Brooklyn. A chance meeting between Anderson and Jacobsen at a New Hampshire restaurant (they got stuck at the same table) brought the trio togeth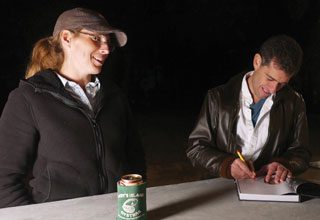 er.
"I grew up in Wisconsin. Before we started this I'd never seen an oyster farm in my life," he says. "I wanted to bring fresh eyes to the process."
Those fresh eyes managed to find ways to capture stunning images of the individual characteristics and appeal of the different varieties of oysters.
"Since we got to travel to a lot of the farms the images are sort of informed by the place," he says. "That's the great thing about oysters."
He recalls shooting here as a unique experience.
"Absolutely. None of the places we'd been were anything like this. And Frank has oysters growing on all sorts of things like bamboo and lawn chairs. And his hatchery/nursery operation sets him apart. Not many of the farmers are doing the science behind it."
We take a break to crack a few Single Ladies and wash them down with some really good regional beer. Frank's bulldozer's parked next to the bar, the giant shovel is packed with cans of beer and ice. The moon is up over the marsh and there's a slight chill in the air. Across the bar Rowan signs a book for Julie Davis with the South Carolina Sea Grant Consortium. According to Frank Julie and Sea Grant have been instrumental in his success. And the work is only beginning, says Frank. He's got major plans to continue his expansion and foster other farmers in a nearby community desperate for an economic jolt.
Leafing through the book once again I'm struck by the individual "portraits" of the oysters. They're like shellfish pin-ups.
Fresh out of books, Rowan joins us as some freshly steamed clusters hit the bar.
"A big part of this book was to get people to wake up to what's happening in the oyster world," he says, "because I really feel we're in the Golden Age of Oysters right now."
As high end raw bars spring up in the nation's tony urban centers, oysters are being hailed in the elite echelons of the culinary world as "the new caviar." Does he agree?
"Totally," he says. "Although I think oysters are more like the new wine. You taste the difference in how and where the grapes are grown. Same difference with oysters. I think of them as concentrating all of the characteristics of what's going on in the water into this delicious little nugget of food. The same reasons why people geeked out over wine is why they're geeking out over oysters."
"In other words it's all about what winemakers call terroir."
"Absolutely," says Jacobsen. "When I picture an oyster it's something like a Wellfleet – a super salty New England oyster."
And how do Frank's oysters compare?
He picks up a freshly shucked Single Lady and examines it like a precious jewel.
"These oysters are so good," he begins, then pauses. "There are so many oysters grown in places like North Carolina and the Chesapeake that just don't have the salinity – and I like a really salty oyster – and this is an amazing, salty oyster."
Back to that Wellfleet comparison.
"Oh, these would woo New Englanders who don't think they like Southern oysters because they're getting Gulf oysters. Yeah, these are exceptional."
"So, if I had a small wager with, say, someone from Massachusetts that they'd pick a Phat Lady over a Wellfleet in a blind taste test, you'd back me up on that?"
Rowan Jacobsen doesn't miss a beat.
"Oh, totally," he says. "Totally."

GET MORE:
Buy "The Essential Oyster" at www.rowanjacobsen.com
Book an event or invite some Single Ladies to your next oyster roast at http://singleladyoysters.com
Learn more at www.scseagrant.org