The Blood Alliance in Beaufort County saves lives everyday.

As Father's Day just passed, I celebrate one of the
endearing qualities of my Dad, one that has always given me inspiration to do the right thing. My Dad, Stewart Nilsen, gave blood every chance he could. Every couple months, he'd come home with a bandage on his arm, telling my brothers and me how important the gift of blood was to so many who tragically needed it when they least expected it.
The habit started when his company, Pearlstine Distributors, organized blood drives quarterly. Dad, always the giver, asked how often he was able to give. When he learned it was every 56 days, Dad challenged his fellow employees to commit to giving blood every eight weeks instead of the required twelve. They listened, and hopefully, the message spread to their families as it did to mine.
I cannot say that I give as often as my Dad did, but I do appreciate the challenge to start now. I am healthy, and I am able. I am one of 60% of the population that qualifies to donate. Sadly, only 5% actually do. I want to help that statistic exponentially increase in Beaufort. And I know that it can. We are a giving community; always have been. But donations don't always have to be in the form of dollars. It's time we remember that the most important investment we can collectively make is not through a financial bank. It's through a blood bank.
We'll never know when an emergency will arise, whether it be a mass catastrophe or an individual calamity. But, we can be prepared. Giving blood can save lives. That's all there is to it. It can save your neighbor's life, and it can save yours. And the more blood we have in Beaufort County, the better.
If donors gave just two times a year, shortages could be prevented. To become a blood donor, you need to be at least 17 years old, over 110 pounds, and in good general health. That's it.
The need for blood is constant. It does not take a break; in fact, during the summer, donations tend to decrease as donors go on vacation and off their regular work schedules, while the need for blood increases with more people on the roads, and more accidents occurring. The most important donation is the next one. Blood cannot be manufactured or harvested, making each of us the only resource for life.
Whole blood is made up of three components: plasma, red blood cells and platelets. It only takes about an hour to give blood, and your one donation of whole blood can be broken down into those three components to save three different lives. The most important part of giving the gift of life is taking that first step to donate with The Blood Alliance.
The Blood Alliance has been enriching lives since 1942, providing blood to more than 40 hospitals in Florida, Georgia and South Carolina. It is the sole provider of blood to the Lowcountry and its area hospitals that include: Beaufort Memorial Health (Beaufort), Hilton Head Hospital (Hilton Head), Coastal Carolina Hospital (Hardeeville) and East Cooper Medical Center (Mt. Pleasant).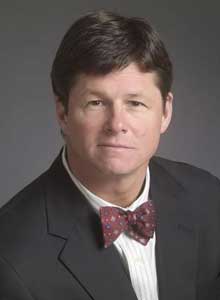 Recently, the Florida Association of Blood Banks (FABB) presented the Hospital Professional Advocate of the Year to Dr. Bradford Collins, Pathologist at Beaufort Memorial Hospital.
Dr. Collins has been the Medical Director at Beaufort Memorial Hospital (BMH) since 1996, and BMH has been affiliated with The Blood Alliance since 2002.
Dr. Collins was instrumental in the decision to provide blood to BMH. The move to introduce The Blood Alliance (TBA) into South Carolina has since opened more opportunities for TBA, including incorporating additional hospital customers, tapping into blood donors in the South Carolina region and opening a new donor center in Beaufort, located at 1001-A Boundary Street. Dr. Collins has been an exceptional partner and represents TBA's need in the community by way of being a spokesperson and champion through numerous media communications that have steadily increased TBA's visibility. The blood drives at BMH are among the best of hospital clients'. In fact, Dr. Collins even has some of the marketing staff working in tandem with TBA to help build the donor base in the Beaufort area.
Dr. Collins has been an active Chairman of TBA's local Community Advisory Committee since 2002. In this role, he has advocated for blood drives at the hospital, helped TBA obtain access to the community for blood drives, and spearheaded the opening of the donor center in Beaufort. Under his leadership, BMH established a blood management program in 2008. Since the program's inception, blood usage at the hospital has dropped 27%. This has resulted in improved patient care and the ability of TBA to serve the region effectively.
"Through generous support, the partnership between The Blood Alliance and Beaufort Memorial Hospital has secured a steady and reliable blood supply in our area and also has improved the service we're able to provide as an organization. We can't possibly begin to thank the everyday donor enough," says Dr. Collins.
Recently, a patient had an aggressive bleed and needed multiple units of blood and plasma. Because the donor center was so close to the hospital (and not in Savannah where it once was), doctors were able to provide product much quicker than in previous years. And, the prompt delivery fulfilled the request and bought time for a larger supply. Everyone involved was amazed that the patient survived. And it was thanks to The Blood Alliance and Beaufort's ambassadors to the cause.
Dr. Collins is also appreciative of the sophisticated reference lab located at the Boundary Street donor center.
He explains, "When doctors are looking for a rare antibody, they don't have to search far. The reference lab we have here can select and screen blood, which is the key to providing safe transfusions."
In addition to Dr. Collins' recognition, Beaufort Memorial Hospital also received the Hospital Partnership Service Award from the Florida Association of Blood Banks.
BMH and TBA have been working together to enrich the lives of people in Beaufort, Jasper, and Colleton counties, which covers a wide area in the Lowcountry. Efforts by BMH to establish a local blood donor base in Beaufort, in partnership with TBA, has shown them to be a model leader.
Their donor center was fully committed and given the important leadership support from its community with the establishment of a Beaufort Community Advisory Committee. As a result of this committee that collaborated as an auxiliary arm for BMH and TBA, the partnership made way for Beaufort's first local fixed blood donation site, provided to The Blood Alliance rent-free on BMH property.
The hospital's consistent efforts to promote its relationship with TBA are directly related to its establishment of a Beaufort Community donor base that donates 37% above its community's blood product needs (in excess of more than 1,400 units a year) – ensuring their community with an adequate supply of blood to treat local patients.
And BMH's next patient could be you or a loved one. So, it's time for you to donate, and you're probably eligible. For a list of possible deferrals, please visit The Blood Alliance's website at www.igiveblood.com.
The Blood Alliance Donor Center is at 1001-A Boundary St. in Beaufort. Donors can give blood from 7 a.m. to 2 p.m. Tuesdays, Thursdays, Saturdays and Sundays, and from noon to 6:30 p.m. Wednesdays. For more information or to schedule an appointment, go to www.igiveblood.com or call 843-522-0409.
Give blood today. It is the gift of life.
Giving Intervals for Donating Blood
Whole blood – you can donate every 56 days
Double Reds – you can donate every 112 days
Platelets – you can donate every 2 weeks
Plasma – you can donate every 28 days
Shelf Life of Blood
Red blood cells – will last 42 days
Frozen Plasma – will last 1 year
Platelets – will last 5 days
Whole Blood – will last 21 days