The Beaufort Irish Festival is back! It's bigger and better in February 2009,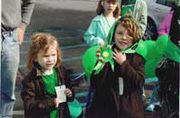 with activities including an expanded Molly Malone Children's Parade, instruction and practice in traditional Irish ceili dancing, a storyteller evening, an Irish culture lecture and special displays.
The final festive weekend features music by The Dady Brothers, Harry O'Donoghue and the O'Carolan Trio as well as the Beaufort Youth Orchestra… Irish step dancing and Glor na h'Eireann, The Pride of Ireland Dance School troupe from Savannah… Pub Night downtown… an oyster roast and an "open mike" jam session for local musicians.
Returning favorites include the Irish soda bread competition, Beaufort's own Irish Dance Troupe and a Festival Gala with music this year by Carroll Brown & Friends. Craft and food vendors add to the "green" atmosphere so everyone can be Irish… at least for a little while.

Proceeds from this year's Festival will benefit Friends of Caroline Hospice, a 501(c)(3) organization that serves terminally ill individuals and their families in the Beaufort area free of charge.
Mark your calendars now for the 2009 Beaufort Irish Festival, Feb. 7 through 22. For the complete schedule, sponsors, event details and ticket information, visit www.beaufortirishfestival.org .