Verdier House Exhibit Spotlights Beaufort's Role during the Spanish-American War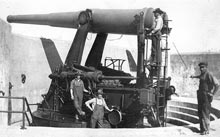 Visitors to the Verdier House Museum will experience the sights and sounds of Beaufort's coast defense heritage from the Spanish-American War through the opening years of the 20
th
century in a multi-media exhibit opening March 23, 2012. Artifacts and period pieces assembled from museums and private collections tell the story of the important role Fort Fremont played during this historic period. The exhibit is sponsored in part by The Humanities Council
SC
, a state program of the National Endowment for the Humanities and will run through June 30, 2012.
Fort Fremont was the cutting-edge of military defense technology when it was constructed in 1898. The exhibit explains how national and world events conspired to select the remote sea island of St. Helena as the site of one of the most sophisticated defense structures of its time. The exhibit also highlights the soldier's life at Fort Fremont and interaction with the Beaufort community. Lectures and tours of the fort site will supplement the exhibit.
This exhibit is the most comprehensive collection of Spanish-American War era artifacts displayed in South Carolina. The Friends of Fort Fremont has gathered period and current photographs, historic newspaper articles, uniforms, 3-D models, unit flags, an interactive virtual tour of the fort, and a rare film of firing guns on a disappearing carriage. Many artifacts are on-loan from private individuals and public organizations including the National Park Service at Fort Moultrie; New Jersey Fort Mott Historical Site; Hunting Island State Park; Tybee Island Historical Society; Parris Island Museum; US Military Academy Library Special Collections Section; National Archives; Library of Congress; and the Coast Defense Study Group.
The display will include architectural models of several fort buildings made by local students during a special history enrichment program. A fact "treasure hunt" oriented to different ages will engage and challenge students during field trips.
The exhibit will run from March 23 through June 30, 2012 at the John Mark Verdier House located at 801 Bay Street, Beaufort, SC.   Docent-guided tours are conducted Monday through Saturday once an hour on the half-hour from 10:30 a.m. until 3:30 p.m. Admission to the Verdier House is $10.00. There is no charge for students, active duty military, and members of the Historic Beaufort Foundation.
On Monday, March 26, Historic Beaufort Foundation will host a lecture on "The Spanish-American War: More than a Run Up the Hill" by Dr. Mark Barnes, Senior Archeologist, National Park Service, Southeast Region.