How a start-up lowcountry distiller changed the law, beat the odds and became a national phenomenon… By Mark Shaffer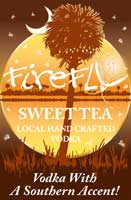 It seems fitting and a bit ironic that something called Firefly has generated the biggest buzz in the liquor industry since the repeal of Prohibition. It also seems an appropriate time to tell the story in the wake of the 70th anniversary of that occasion. Most of it takes place just south of Charleston on an idyllic 48-acre farm deep in the wilds of Wadmalaw Island, where once upon a time Mel Gibson trained on horse drawn carriages for his roll in The Patriot. But that's a story best told by the current owner, Jim Irvin.
Jim and his wife, Ann, bought the place in 2000. In a radical departure from his decades in construction and development and her teaching career they proceeded to create the Lowcountry's only vineyard, Irvin House. Barns were transformed into a winery and11 1/2 acres of Muscadine grapes – the only grape that will grow here – went into the land, surrounded by moss-covered live oaks and a six-foot high electrified fence to fend off the indigenous wildlife.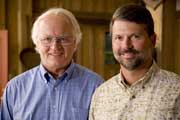 "We made the wine and in November of 2003 we opened for business," Says Jim. The Kentucky native had been itching to put his background in biology and chemistry to work for years. The next challenge was getting his product on store shelves. While the Irvins were planting grapes, Scott Newitt decided a decade of the corporate shuffle at wine giant, Gallo, was enough. The Louisiana transplant moved his family to Charleston and took a job in the distribution business.
"Around that time Yellow Tail (wines) came out," explains Scott, "and that was really the beginning of all the critter labels – labels aimed at younger wine explorers who want to identify with a label. They don't want to drink their mom and dad's wine. And I thought, you know, a critter label would work in the distilled spirits business because there were none." He smiles at the recollection. "So around 2002 I came up with Firefly."
From the beginning the idea was to make it as local as possible. He originally wanted to use Carolina Gold Rice, but the cost made it impossible. Shortly after hatching the chrysalis that would be Firefly, Scott and Jim crossed paths and Scott's firm picked up Irvin House for distribution. To paraphrase Bogey, this would be the beginning of a beautiful friendship.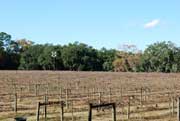 "One day Scott and I were talking," Jim recalls, "and he said, 'you make some nice southern wines. Why don't we do what they do in Europe?" What Scott had in mind was to follow the centuries-old European paradigm of the local distillery – every town has its own, or so it seems. He'd also been involved with the phenomenally successful roll out of Red Bull in South Carolina – and that began to give him ideas.
"And then Jim and I became friends and Ciroc (a French made grape vodka) was coming out, and I thought maybe we should just make it out of grapes because the first distilled spirit – ever – was made out of grapes."
There was just one problem – they couldn't afford to make their South Carolina product in South Carolina. "The state basically said if you want to distill you have to pay us fifty thousand dollars up front every two years," says Scott. Their first batches of Muscadine vodka were produced in Florida while they went to work back home to change the law.
"That took about a year and a half of us getting in front of all twenty local senators and representatives," says Scott. As always in these matters, it was the money that did the real talking. "We also kept records of what we spent in Florida," explains Jim, "hiring people, renting space and everything else and sent it to every newspaper and magazine in South Carolina, had it published and sent copies to every legislator." Once the economics of the situation were made clear, the laws were modified and by June of 2007 Jim and Scott began to wade through another six months of the licensing process. "We were legal to distill here by late November of '07," says Scott.
By this time vodka infusions were gobbling up a huge chunk of the marketplace and when a friend in California introduced a vodka infused with green tea, it got Scott thinking – again. Location did the rest. As it happens Wadmalaw Island is also home to the Charleston Tea Plantation, the only working tea farm in the continental United States.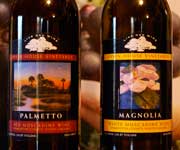 "Sometime in the summer of 2007 I was at home drinking a beer," Scott recalls, "and Jim and I had to go over to the [Charleston] Tea Plantation for something – 'cause they did a lot of co-marketing – and I called Jim and said 'we need to make sweet tea vodka.'"
The ingredients were all within reach. Jim grew the grapes, the tea was picked on a neighboring farm and Scott had old friends in the sugar business. It all just made sense. A perfect storm had begun to form around their goal to be, as Scott puts it, "the Jack Daniels of the Vodka business."
Fact: the average Southerner consumes 100 gallons of sweet tea per year. More than Coke and Pepsi combined. But how would it travel off the plantation, so to speak?
With the help of an enthusiastic distributor and a trio of marketing interns, Firefly Sweet Tea Vodka hit the streets on April 15th, 2008 with a heavy concentration on coastal bars and restaurants and millions of tourists from all over the country. Within a month the buzz had begun to build in places like Boston, a city famous for a tea part of an entirely different sort. And then serendipity stuck a toe in the pool.
Scott remembers. "In May McDonald's began advertising in other markets – the whole country – that they sold sweet tea. Radio. Television. Billboards. It was everywhere. And then it just exploded."
The perfect storm had formed. Sweet tea was hot and Firefly owned the market. By August the little distillery on Wadmalaw Island outsold mega-brand Absolut in South Carolina. As Firefly began to catch on across the country, Jim and Scott faced a bittersweet Catch 22. Sales had lapped cash flow. The product was going out faster than the checks were coming in. Assets hadn't caught up with sales, sales were exploding, and Uncle Sam gets his cut up front. No excuses, no exceptions, no delays.
"We looked at all the options," says Scott, "and we're teaming up with a company called Sazerac who also have Buffalo Trace Distillery. They're going to be our financial arm – our sales force and our help with production, all that kind of stuff." That stuff includes navigating the unforgiving, often treacherous seas of federal bureaucracy, including the Department of Homeland Security, for reasons we don't have space or heart to explain.
"And they're also going to pay the bills," adds Jim, "which is nice."
Indeed. Partnering with a huge distiller like the New Orleans based Sazerac Company not only solves all the immediate fiscal and logistical challenges, but also keeps the Firefly brand firmly planted in the South with southerners (one knock-off out of Maine has since been pulled). That leaves the pair to concentrate on promoting and expanding the Firefly brand. Expect more tea infusions, and in January Firefly takes a crack at the premium vodka market with its six times-distilled Firefly Hand-crafted Vodka. Most vodkas are distilled only three times. Firefly's hand-crafted vodka involves a process Jim invented (patent pending). The result is a super pure, ultra-smooth spirit that makes most premiums in its class taste like paint thinner by comparison.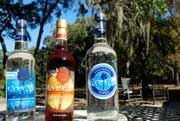 And yet, as Firefly continues to grow, both Jim and Scott remain committed to a local, sustainable paradigm. Every new Firefly product will bow first in its home state – the label's resemblance to the state flag is no accident. In fact says Scott, one goal is to make the South Carolina flag famous worldwide. Now that they've opened the door for other distillers they're also committed to changing the state's arcane tasting laws. When you visit Irvin House/Firefly you can sample and buy the wines but the vodka's off limits. The Firefly team hopes the state will eventually adopt a model similar to the bourbon industry in Jim's native Kentucky.
"And we're still going to produce everything for South Carolina right here on Wadmalaw" Scott promises.
"Absolutely," I agree.
"That's a dirty word around here," Jim tells me. "We prefer 'Fireflyly."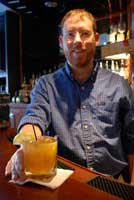 But of course. I'm beginning to conceive of the day when a certain tuxedoed secret agent bellies up to some swank bar to order "a Firefly martini. Shaken, not stirred."
Cheers.
Find out more about Firefly online at www.fireflyvodka.com
And check out Irvin House Vineyards at www.charlestonwine.com
Mark Shaffer's e-mail is backyardtourist@gmail.com