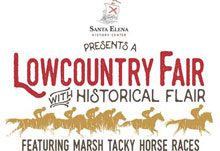 What's more fun than a Lowcountry spring fair, filled to the brim with historical flair? With the arrival of warmer weather, the Beaufort Heritage Tourism Corporation, Santa Elena Foundation and Coastal Discovery Museum are collaborating to bring the third Lowcountry Fair with Historical Flair on Friday, March 27 for schools and Saturday, March 28 for the public.
It's the perfect way for the entire family to spend a day in the Lowcountry! And this "better than ever" event showcases 500+ years of history throughout Beaufort County as well as our unique ecology, culture and heritage. The events take place on the grounds of Coastal Discovery Museum, at the north end of Hilton Head Island.
Thanks to several partner organizations and sponsors, plans are in place for all ages to experience activities like the Living History Showcase, travelling Hunley exhibit, Marsh Tacky demonstrations, Lowcountry Animal programs, nature trails, and – of course – music, food, artisans, and much more! Moderately-priced tickets and family ticket packages are on sale in advance and at the gate – and with one ticket, all activities are included.
"The Lowcountry Fair is a stand-out event for the community to experience local heritage mixed in with plenty of good fun, food and friendship!" said Megan Morris, executive director of the Santa Elena Foundation. "This furthers county-wide efforts to highlight Beaufort's unique history and collaborate with others in the region to commemorate significant moments and understand our past."
The fair features Marsh Tackies – the SC State Horse – who will gladly meet spectators who want to learn more about the breed, and then show off their agility on during the Fun Show on the obstacle course. The Marsh Tacky is a well-protected breed due to its heritage as the horses that originally arrived in today's America on Spanish ships in the 16th century.
The premier Living History Showcase includes early settlers through the twentieth century. Compelling historical re-enactors show family life, living conditions, and times of war, sacrifice, and change. From 16th century colonial times when Santa Elena was founded by the Spanish, through the American Revolution, the Civil War/Reconstruction era and up to WWII — men, women and children in period costume mingle with spectators, tell fascinating stories of life in days gone by, fire their weaponry, walk in a parade and engage visitors in fun, educational activities.   
Among the activities, delicious local concessions are available for purchase throughout the day. Choose from a wide variety of food vendors who uniquely showcase food from around the Lowcountry — from hot lunches to special treats and even local brews. Sip and see around this unique venue with local music playing and skilled artisans displaying their original products from iron-welded signs, to local honey, and everything in between. 
Discover many local organizations in the Partner Showcase. Meet friends at the National Park Service and participate in a Junior Ranger program, or head over to see what the Morris Center for Heritage, Port Royal Sound Foundation, and Mitchelville Project have to share – just to name a few!
And just when you think you've seen it all, follow a nature trail around the preserved grounds of historic Honey Horn, serving as Coastal Discovery Museum today. Don't be surprised to meet their critters, like turtles, alligators, and snakes as you enjoy the waterfont view and beautiful oak trees!
With so much to do and enjoy, consult the event webpage for special program times throughout the day. While many of the demonstrations and activities will be ongoing, there will be scheduled times for weapons demonstrations, animal programs, onstage performances and more. 
Ticketsare available online (https://santa-elena.org/lowcountry-fair-2020/) and at the gate. All tickets are non-refundable. This is a shine-only event.