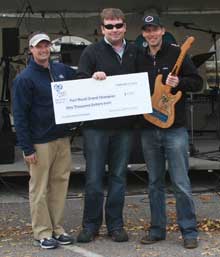 The Town of Port Royal, which is considered the barbecue capital of the state, will host two days of barbecue paradise on February 22nd and 23rd as approximately 30 cookers from all over the Southeast converge on the area for the 4th Annual Bands, Brews and BBQ to benefit Friends of Caroline Hospice.
Friday night will feature wings, bands and brews and Saturday will be the first sanctioned event of the year for the South Carolina Barbecue Association as cookers compete for the best BBQ and ribs.
Cookers come not only for a good time, but to share their fare and compete in this first judged event of the season. Last year's Port Royal Grand Champion Winner, J.B. McCarty says, "I come from humble barbecue beginnings. I spent my summers on Lake Blackshear in Georgia cooking barbecue with my uncle and grandfather. We were always cooking ribs and shoulders, and that's when I started experimenting with different bastes and sauces."
In 2004 a friend asked J.B. if he could cook a whole hog and when he replied yes, the friend entered them in the Prestigious Palmetto Pig Pickin Contest. Blackjack Barbecue, as they call themselves, won 2nd place and Rookie of the Year. From there they went on to win 1st place in the North Carolina state championship and then earned five back-to-back top finishes in the World Championship in Memphis. J.B. has also appeared on the Today Show and the Food Network's "The All American BBQ Showdown."
His key to barbecue success? "Basting with eastern North Carolina vinegar sauce, and never basting with sugar, which will cause carmelization." But he adds with a smile, "the most gratifying reason I cook now is to just be with friends and enter competitions that support a great cause. Bands, Brews & BBQ fits that bill perfectly!"
Bands Brews & BBQ is a major fundraiser for Friends of Caroline Hospice, a non-profit organization that offers end-of-life services. The organization does not ask for money from its patients or rely on insurance or government programs. Its main form of fundraising is through donations and community events, including Bands, Brews & BBQ.
Details
Friday, February 22nd, 6-9 pm: The Wing Throw Down: Each cooker will prepare wings in the style they choose for public sampling and judging. The party will feature live music until 10 pm.
Saturday, February 23rd, 12-4 pm: BBQ Competition Day: Festival goers sample barbecue and ribs from approximately 30 cooking teams from across the southeast, competing in a sanctioned SCBA cook-off.
Tickets: Tickets may be purchased for $20 each day (or $35 for both days) online at friendsofcarolinehospice.com. Tickets will be available at other locations at a later date. Call (843) 525-6257 for more information. To compete, visit the SCBA or Friends of Caroline website for a registration form or contact Maura@friendsofcarolinehospice.com.