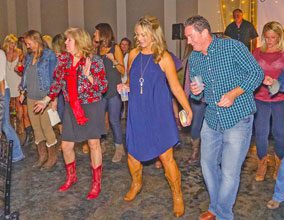 The Wardle Family YMCA of Beaufort County invites you to its'€™ 8th Annual Boots and Bling Fundraiser & Silent Auction presented by CBC National Bank, to be held on Saturday, October 14 from 6 -€" 10 pm at Tabby Place in downtown Beaufort.
This year'€™s "€˜rustic chic" soiree includes a silent auction, live auction, cocktail hour, delicious food provided by local eateries, and music by Veterans'€™ Pride Entertainment Service perfectly curated to inspire a full dance floor. Event tickets can be purchased at the Y in Port Royal (1801 Richmond Avenue) or at the door the night of the event: $50 each or $90 per couple.
Of particular note this year is the Boots & Bling live auction, which will feature one-of-a-kind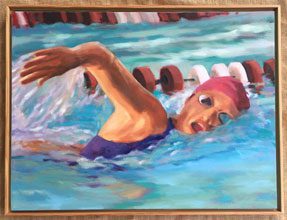 works of art from five well-known local artists. The artists were tasked to create a piece of art that exemplifies what the Y and its programs mean to them and/or how the Y impacts our community.
"We are thrilled to have these six local artists not just donate their incredible works, but also share their enthusiasm for the Y through their art with our community," says Carmen Meyer, the 2017 Boots and Bling Committee Chair. Artists include: Pam Hagan, Linda Hunt, Mary Jane Martin, Mary Grayson Segars, Bob Spielman and Lenore Spielman. Meyer added, "While these pieces will be put up for auction during our "€˜live"€™ event the night of Boots and Bling, they can be previewed online starting on Oct. 2. Just go to our online auction site: charityauctionstoday.com/auctions/BBAuction2017-2710.
In fact, this year's entire Boots and Bling silent auction can be accessed online: charityauctionstoday.com/auctions/BBAuction2017-2710 also starting on October 2. Bidding for the silent auction is 24 hours a day, 7 days a week from the comfort of your home, through Saturday, October 14 at 9:30 pm. Some of the items in this year'€™s auction include a gorgeous handmade queen-size Texas Star quilt by June Jones, Walt Disney World tickets, airline tickets, a lady'€™s cruiser Electra bicycle, artwork by renowned equestrian artist Karen Day, jewelry, fishing excursion, salon services, hotel stays, spa packages, golf and much more!
"Our silent auction also features several original works of art this year," Meyer added. "Cathy Pender Emmert has created lowcountry -inspired metal sculptures made from 100-year old+ railroad spikes recovered from the Port Royal Railroad property – a real piece of local history!"€
Boots and Bling is a highlight of the fall season in Beaufort and an event where folks can let loose, have a fun night out with friends all while helping the Y raise funds for its annual capital campaign.
Kaylin Garst, Wardle Family Y Executive Branch Director adds, 2017 marks the third year of CBC National Bank as presenting sponsor of our event and we are so appreciative of their continued support." Sponsorships are integral to producing a successful event and community partners like Schiller & Hamilton Law Firm, Publix Super Markets, Lowcountry Insurance Services, May River Dermatology, Q on Bay, Sutcliffe Golf Cars and many more generous local businesses and individuals help make Boots & Bling a fall-favorite in northern Beaufort County.
"This year we are working to raise funds at our event to create a better childcare pick-up and drop-off area making it more convenient and safer, update fitness facilities, increase parking, and create storage for youth program equipment,"€œ Garst added.
Since 2014 the Y has included a golf car raffle as part of the Boots & Bling event. This year the shiny black golf car is a 2009 Yamaha with new tires, batteries, windshield, lights and fold down rear seat provided by Sutcliffe Golf Cars. Tickets for the golf car raffle are $25 each or 5 for $100 and you do not need to be present to win, although it certainly makes it more fun when the winning raffle ticket is drawn! Y staff will contact the winner within 36 hours of the event's end if the winner is not present at Boots and Bling on Oct. 14.
The YMCA wishes to thank all sponsors, in-kind donors, auction donors, event committee members and the entire Beaufort and Port Royal communities for once again coming together in support of your local Y -€" its mission and programs.
Event Details:
Boots and Bling Fundraiser & Silent Auction presented by CBC National Bank
Saturday, Oct., 14, 2017 from 6 pm -€" 10 pm
Tabby Place: 913 Port Republic St., Beaufort, SC 29902
Event Tickets: $50 each & $90/couple (purchase at the Y in Port Royal or at the door). Ticket includes cocktail hour, bbq dinner buffet, beer/wine and entertainment. There will be a cash bar for mixed drinks.
Golf Car Raffle Tickets: $25 each & (5) for $100 (purchase at the Y in Port Royal or at the event)
To register for the silent auction and preview* all auction items (including live auction artwork!) visit: charityauctionstoday.com/auctions/BBAuction2017-2710
* Preview and bidding will begin Oct. 2 and bidding will end Oct. 14 at 9:30 pm.