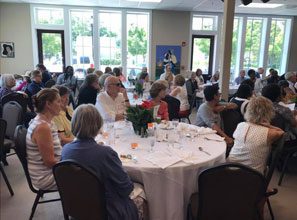 One may find it difficult to imagine what Harriet Keyserling and Harriet Tubman might have in common – apart from their first name. 
Keyserling was an affluent, well-educated 20thcentury lawmaker and Tubman a former slave who could not read or write. Yet, the works of both women are woven into the historical fabric of Beaufort County along with the achievements of others of their gender who bravely pushed forward for the greater good. 
Keyserling was the first woman elected to the state legislature in South Carolina and Tubman led slaves to freedom through the Underground Railroad. Both had to face uncertainty. Both were courageous and intelligent. Both had a desire to help people and were driven to do what they believed was necessary to affect change for the better.
These qualities were also shared by Laura Towne, Rachel Crane Mather, Charlotte Forten and Susie King Taylor.  Their contributions were celebrated during a luncheon featuring the Women of Reconstruction Era sponsored by the League of Women Voters Beaufort, SC Area (LWVB) on May 18. 
Nearly one-hundred people attended the event, which was held at the Beaufort County Black Chamber of Commerce. LWVB board member Jennifer Sharp introduced the presenters, which included Rufus Pinckney and Alvesta Robertson with the Mather Alumni Association along with writer, actor and producer Suzie Parker Devoe. 
Sharp said Beaufort serves as a role model for the state and the nation regarding the effort to bring to light a hidden and misrepresented period in American history. 
"We must know what happened in the past so we don't repeat our mistakes. After President Lincoln was assassinated, the course of Reconstruction changed tragically. The League of Women Voters, Beaufort Area outstretches its hand to the greater Beaufort area to acknowledge what happened and will do everything in our power to make amends and work with the community to prevent it from ever happening again."
Mayor Billy Keyserling updated the crowd on the Reconstruction Era National Historical Park and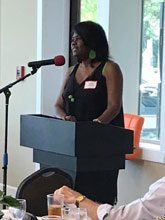 a Harriet Tubman Monument to be built at Beaufort's historic Tabernacle Baptist Church. The mayor, son of Harriet and Dr. Herbert Keyserling, was in attendance with his brother, Paul. 
LWV Secretary Anne Grimsley Bander unveiled plans to honor their mother with a Harriet Keyserling Emerging Leader Fund. She said the fund will be used to make resources available for league members to attend programs that promote leadership development.  
"The League wants to publicly promote its commitment to developing future leaders for the community."
Bander offered a quote from Keyserling's book, Against the Tide, which reads, "Which laws stand and which fall at a particular time depends on the political climate and the public will. And that will depends in turn upon the public's knowledge.  I agree so strongly with the credo of the League of Women Voters that to have a healthy democracy, citizens must have the information they need to participate in the political process." 
League leaders felt the contributions of Harriet Keyserling, who championed such issues as equal rights, voter education, the environment and the arts should be recognized, remembered and honored along with the valuable impact of the trail-blazing women of Reconstruction who gave so much of themselves for the betterment of so many others.  
Women of Reconstruction Celebrated at the Luncheon:
Harriet Tubman
Tubman was born a slave in Maryland. She was known as "the Little General" and "Moses" for leading so many people to freedom. She rescued about 700 slaves at one local plantation alone. Slave holders placed a bounty on her head but she managed to disguise herself in plain view. She was also an ardent supporter of women's suffrage and worked with Susan B. Anthony. During the civil war, she was a cook, nurse and a spy for the Union. While a slave, she was punished by a strike to her head which caused headaches, intense dreams and seizures the rest of her life. She said some of her dreams motivated her efforts on the Underground Railroad.
Charlotte Forten
Forten was the first black teacher at Penn School to participate in the Port Royal Experiment, the movement to teach former slaves and transition them to a life of freedom. She was from a wealthy black Philadelphia family who had success in sail making. Her grandfather had been a white North Carolina Planter and her grandmother his slave. Forten was also a poet and activist. She suffered from lung problems and, after four years, returned north for health reasons. She eventually married the biracial nephew of the famed abolitionist Grimke sisters.
Laura Towne
Towne was a trained medical practitioner and teacher who was inspired by the abolitionist preaching of the Rev. William Henry Furness at the First Unitarian Church of Philadelphia. A white woman, she came to Beaufort County alone during the Civil War to teach the newly freed slaves. This led to the creation of Penn School, the first school in the south for freed slaves. It exists today as Penn Center on St. Helena Island. 
Susie King Taylor
Born a slave near Savannah, Taylor was known for her brilliant mind. She was easily educated and became a teacher and the first Black US Army nurse. She cared for the 1st South Carolina Volunteers, which later became the 33rdUS Colored Infantry. She participated in the liberation of Charleston and exhibited extraordinary courage under fire.
Rachel Crane Mather
Originally from New England, Mather was a white abolitionist and missionary who came to Beaufort to teach the former slaves. She opened Mather School in 1868 – a boarding school – on what is now the campus of Technical College of the Lowcountry where she taught "reading, grammar, and moral development." In addition, she solicited large quantities of clothing and other domestic items from the north for use by the freed people in Beaufort County and earned money for her students by opening a much needed laundry service.
The League of Women Voters of Beaufort, SC Area, a nonpartisan political organization, encourages informed and active participation in government, works to increase understanding of major public policy issues, and influences public policy through education and advocacy. Find us on Facebook: "League of Women Voters Beaufort Area" Follow us on Instagram @beaufortvotes and #beaufortvotes.Or contact us at lwvbeaufort@gmail.com, (704) 641-7357.

Top left: The audience listens to presentations on Women of the Reconstruction Era at the League of Women Voters Beaufort luncheon May 18 at the Beaufort County Black Chamber of Commerce.
Top right: Alvesta Robertson, V.P. Mather Alumni Association gives a talk on Harriet Tubman at the League of Women Voters luncheon May 18.