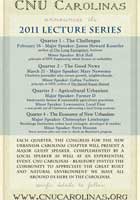 The CNU Carolinas is proud to announce it's 2011 Lecture Series.  The goal of the series is to introduce locals to some of the nation's foremost experts in both the built and natural environment. Most importantly, these speakers address how they work together, which is the true beauty of the Lowcountry.  Each quarter brings a major, more nationally – and even internationally – known speaker, as well as a relatively local speaker, both of whom will discuss a similar theme.
When: The first two dates for the major speakers are set, and the second two will be finalized shortly. The minor speakers are planned to come the 3rd Wednesday of March, May, July and October. These dates will also be finalized and formally announced.
Where: The locations for all presentations are still being finalized.
More Information: please visit our website www.cnucarolinas.org for more details. You may also contact Eric Brown at 843-986-9610, or eric@brownds.com for sponsorship information.