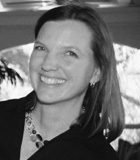 Many of us who contribute to and read this publication will agree that the written word is an art form.  Have you ever thought about the instrument used to write the words as an art form?  I know many of you may think your computer is absolutely beautiful but I am referring to ink pens, fountain pens to be exact.
Early tools to put ink to paper included quills or pens with steel nibs which were dipped into ink wells.  This was a messy and time-consuming project.  The innovators of the 19th century soon created pens that could hold the ink as well as dispense it.  These early tools were usually made of hard, black colored rubber.  By the early 20th century fountain pens were being made for specific functions with nibs designed for small, precise work such as accounting and with nibs for such jobs as decorative calligraphy.  As the ability of the pens to satisfactorily distribute the ink properly increased so did the desire to make pens that were lovely as well as functional.  Gains in the technology of rubbers and plastics made it possible to create lovely cases in a rainbow of colors.
The earliest color combination was red and black in a rubber material.  Since the red rubber was less stable than the black it wasn't as well suited for solid pens.  The marbled blend of color which began as a practical measure became one of the most popular variations available.  Soon colors and patterns were created to appeal to certain groups.  Women preferred softer colors or "jeweled" cases and men liked natural materials such as gold, snakeskin, wood and leather.  Many plastic cases have designs that replicate minerals and semi-precious stones.  Fountain pens became more common and less expensive quickly after 1910.  As they became available to more social groups, the more upscale designs became popular with those who could afford the best.  These designs were status symbols purchased to give an aura of success to the owner.  Many businessmen sported fancy fountain pens in outer pockets.  (This must have given rise to such auxiliary products as pocket protectors and stain removers.)  Maybe our practice of giving pen sets to new graduates arose from this idea that those with nice pens had "arrived".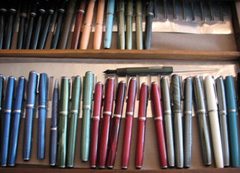 Collectors of fountain pens look for examples from the stages of technological development as well as the wonderful exteriors.  Not only have the pens become an interesting area for collecting, but the original advertising is popular as well.  Most pens are valued in the $15-$45 range.  Those that are the "firsts" or are more rare examples can have much higher values.  Pens with gold or sterling cases and those jeweled with genuine stones can cost over a thousand dollars.  Provenance, such as the maker or the user, can also push the value into the thousands.  I searched some recent auction results and found a jeweled pen by Tiffany and a simple pen used by John F. Kennedy to sign a minor treaty.  Each sold around $2,700.00.  Condition is also key, common examples should be in working order.  If accepting a non-working pen into your collection means that you can have that wonderful silver Tiffany pen, then go for it.
A friend who was sharing her collection with me said she chooses pens with flashy, colorful cases that appeal to her.  She collects in the mid price range and isn't very concerned about whether the pens work properly or whether she is following all the "rules" in her price guides.  Though she loves all her pens, those marked with the manufacturer and patent date are a special collecting area.  She started collecting when she was cleaning her mother's house and found an old fountain pen.  She liked the idea of collecting something that wouldn't take up much room and the hobby blossomed from there.  Fountain pens were inexpensive at the time she started searching flea markets and estate sells.  She admits to sometimes paying more than she should for a pen that was especially tempting.  A favorite collecting story takes place on a day when she was picking up her grandchildren in Charleston and had ten minutes to spare.  She dropped into an antique mall she liked and immediately spotted a small jewelry case with about twenty fountain pens inside.  The whole thing was priced at $20.  She says she grabbed the box, rushed to the counter to pay for it and still managed to get downtown to meet the kids on time.  According to her, driving home without taking the time to look in the box again was very hard.
Her collection has expanded to over 150 pens and matching pencils.  The better examples are housed in special cases designed for showcasing them.  Some of these cases are more expensive than the pens and original point of sell cases are collectible in their own right.  Her husband surprised her one anniversary by having some favorites placed in a shadow box frame that can hang on the wall.  Though not all the pens are on display, she enjoys looking at them and remembering the personal meaning of each.  Not only is she surrounded by a collection that gives her lots of joy, but she never has to search for a pen to write a note with.
Libby Holloway is a Certified Appraiser of antiques and residential contents.  She can be contacted at www.LibbyHollowayAppraisals.com
.