What's better for a summer Friday night supper than grilled steaks and butter-laden potatoes? Nothing. Nada. Zilch. I like to season our steaks with Monterey steak seasoning or just salt and pepper. Vince is the griller in our family, and he cooks them to a perfect medium-rare with a pink center. Our favorites are T-bones, ribeyes and New York strip steaks. Last weekend, we invited two friends over for a steak dinner and the recipes in this issue are the side items that we served. During cocktail time, we snacked on Manchego Cheese and Fig Jam Spread with crostini. Manchego is a hard Spanish cheese. You'll need to grate it on a sharp cheese grater to get a consistency that will mesh with the cream cheese. Heavy cream helps to make the mixture smooth. Add additional cream, if needed. Vegetable Salad with Champagne Vinaigrette is a light and refreshing side dish that goes great with any grilled meat. Store any unused vinaigrette in the refrigerator. It will last about 10 days. Celebration Potatoes have become my go-to potato recipe this year. Make it in a casserole dish or serve it in individual ramekins. It's guaranteed to be a new favorite! Dessert had to be Chocolate Ganache Cake. The thing about ganache frosting is, as heavy as it would seem to be, it's really not. It's actually very creamy and not anything like traditional chocolate frosting. Two hours is the maximum amount of time that the ganache needs to chill before it's whipped. If you forget and about it and it gets too hard, use it to make chocolate truffles. One more suggestion, substitute cold coffee for the water required for the cake mix. Coffee adds a depth of flavor to the chocolate. Happy grilling!
Manchego Cheese and Fig Jam Spread
Incredibly delicious!
4 ounces cream cheese, softened at room temperature
½ cup grated Manchego cheese
1 tablespoon heavy cream
Fig jam or fig preserves
Slivered almonds, toasted
Crostini or crackers
With an electric mixer, combine cream cheese with Manchego cheese and heavy cream. Mix until smooth. Spread mixture in a small serving dish. Top with fig jam and garnish with toasted almonds. Serve with crostini or crackers. Serves 4.
Vegetable Salad with Champagne Vinaigrette
For the vinaigrette:
½ cup freshly squeezed orange juice

2 tablespoons champagne vinegar
1 tablespoon chopped Italian parsley
2 teaspoons chopped fresh thyme
½ teaspoon dried tarragon
¼ teaspoon sugar
3 tablespoons olive oil
For the salad:
Mixed salad greens
English cucumber
Radishes
Grape tomatoes, halved
Sliced black olives
Freshly ground black pepper
Place vinaigrette ingredients in a small jar with a tight-fitting lid. Shake to mix well. Place the salad greens in a large bowl. Using a mandoline, cut cucumber and radishes into thin slices and add to salad. Top with grape tomato halves and sliced black olives. Garnish with black pepper. Pour vinaigrette, to taste, over salad before serving.
Celebration Potatoes
I served these yummy potatoes in individual ramekins. If you choose to do the same, just reduce the baking time by about 20 minutes.
1 (32-ounce) bag frozen diced hash browns, thawed in the refrigerator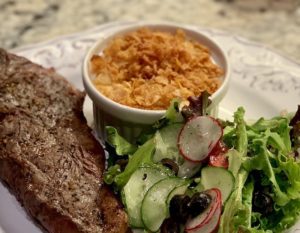 2 cups shredded sharp cheddar cheese
2 cups sour cream
1 (10.5-ounce) can cream of chicken soup
10 tablespoons melted butter, divided
2 teaspoons dried minced onion
½-¾ teaspoon salt
¼ teaspoon black pepper
3 cups corn flakes cereal, crushed
Thaw potatoes overnight in the refrigerator. Preheat oven to 350 degrees. Spray a 9×13-inch casserole dish with cooking spray. Mix hash browns, cheddar cheese, sour cream, soup, 6 tablespoons melted butter, dried minced onion, salt and pepper in a large bowl until well combined. Spoon mixture into prepared casserole dish. Place cornflakes in a large ziplock bag and crush gently. Add remaining 4 tablespoons melted butter to the crushed cornflakes and toss to combine. Sprinkle mixture evenly over potatoes. Bake, uncovered, for 40 to 50 minutes. Serves 12.
Chocolate Ganache Cake
Absolutely the best chocolate cake I've ever eaten! Don't let the whipped ganache intimidate you. It's actually very easy to make.
For the frosting: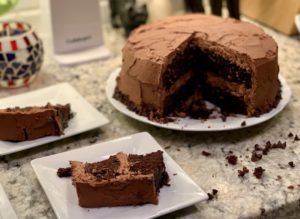 2 cups heavy whipping cream
1 (12-ounce) package semi-sweet chocolate chips
For the cake:
1 (15.25-ounce) dark chocolate cake mix
Heat whipping cream in a microwave-safe bowl until cream begins to steam, but not boil. Stir in chocolate chips until chips are melted and mixture is well combined. Place bowl in refrigerator for 2 hours. In the meantime, prepare cake mix according to package directions, making two 8-inch layers. Cool cakes on a wire racks. When completely cool, split both layers making 4 cake rounds. Remove ganache from the refrigerator and beat with an electric mixer until frosting is light and fluffy. Spread on cooled cake. Refrigerate cake until ready to serve. Serves 12.
The writer owns Catering by Debbi Covington and is the author of three cookbooks, Celebrate Beaufort, Celebrate Everything! and Dining Under the Carolina Moon. For more great recipes and to view her cooking demonstrations, visit and subscribe to Debbi's YouTube channel. Debbi's website address is www.cateringbydebbicovington.com. She may be reached at 843-525-0350 or by email at dbc@cateringbydebbicovington.com.