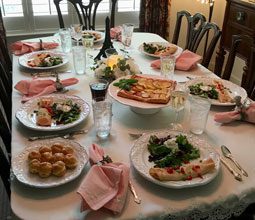 Au revoir. This is the most common way of saying goodbye in French. It literally means "until we each see each other again."
What do you do when one of your dearest friends is going away for the summer? How about away to France for the summer? A handful of Susan Murphy's – Lowcountry Weekly's Aunt Bossy's – girlfriends gathered at my home on Monday afternoon for a champagne luncheon to send our homegirl off in style.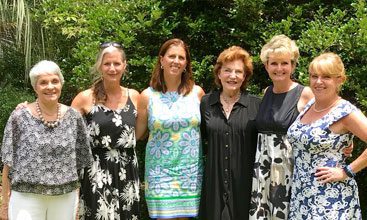 The guest list included Esther Harnett (former owner of E. Shaver, Bookseller in Savannah), Brenda Little (president of BBig Marketing), Louise Hodges (co-owner of Greenbug), Lowcountry Weekly editor Margaret Evans, Susan and me. A three-hour luncheon is a rare treat these days, but highly recommended when you can get everyone together. A group of women sitting around the dining room table, discussing local news and makeup tips intermingled with lots of laughter is good for the soul. I thought a French themed menu would be fun for our gathering. Champagne was a must! A green salad with warmed goat cheese and red wine vinaigrette alongside a crepe filled with chicken and grilled corn, dubbed "Crepes Susanne" by the guest of honor, was the featured entree. We finished off the meal with a fresh fruit tart made with peaches purchased at the Port Royal Farmers' Market. I finally had to kick everybody out of my house at 2:30. We were having too much fun. I can't wait to do it again! Maybe we'll just have to plan a saluons le retour (welcome home) luncheon when Susan returns in the fall.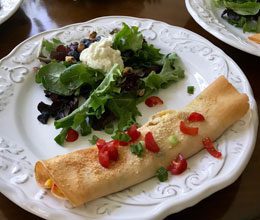 Mixed Greens Salad with Blueberries and Goat Cheese
I warmed the goat cheese medallions in the microwave for about 20 seconds. Warm goat cheese is a real treat! It's creamy and delicious. Be careful not to overheat or the cheese will become grainy.
For the vinaigrette:
¼ cup red wine vinegar
1 tablespoon dijon mustard
1 teaspoon sugar
1/3 cup extra-virgin olive oil
Salt and freshly ground black pepper, to taste
For the salad:
8 cups mixed salad greens
1 cup fresh blueberries
1 (4-ounce) log goat cheese
1/3 cup roughly chopped walnuts, toasted
Whisk the vinegar, mustard, sugar and olive oil together in a small bowl. Season with salt and pepper. Place mixed greens in a large bowl and toss lightly, to taste, with the red wine vinaigrette. Divide greens on 6 plates. Slice goat cheese into 6 medallions and place one on each salad. Top with blueberries and chopped walnuts. Serve immediately. Serves 6.
Crepes Susanne (Chicken, Grilled Corn and Fontina Crepes)
Grilling the corn brings out the sweetness. If you don't have time to grill, you can roast the corn in the oven. Store-bought crepes and/or rotisserie chicken will also work with this recipe. Keep it simple.
For the crepes:
1½ cups milk
1 cup all-purpose flour
2 eggs
1 tablespoon vegetable oil
¼ teaspoon salt
For the filling:
3 cobs sweet corn, grilled
4 cups roasted chicken
½ cup diced red bell pepper
4-5 green onions, chopped
1 egg
2 cloves garlic, minced
1 cup ricotta cheese
8 ounces fontina cheese, grated
¾ cup grated parmesan cheese, divided
Salt and pepper, to taste
2 tablespoons melted butter
Chopped green onion, to garnish
Chopped grape tomatoes, to garnish
To make the crepes: Combine milk, flour, eggs, oil, and ¼ teaspoon salt. Beat until well mixed. Heat a lightly greased skillet. Remove from heat. Spoon in 4 tablespoons of the batter; lift and tilt the skillet to spread batter. Return to heat; brown one side only. Invert pan over paper towels; remove crepe. Repeat with remaining batter, greasing skillet occasionally. For the filling: Remove corn kernels from the cobs and place in a mixing bowl. Add chicken, red bell pepper, green onions, egg, ricotta cheese, fontina cheese and ½ cup parmesan cheese; mix well to combine. Season with salt and pepper. Preheat oven to 350 degrees. Divide mixture evenly between 8 crepes. Roll gently to enclose the filling. Arrange seam side down on a baking sheet prepared with cooking spray. Brush crepes with melted butter and sprinkle with remaining ¼ cup parmesan cheese. Bake for 20 minutes or until crepes are lightly browned and warmed through. Garnish with chopped green onions and chopped grape tomatoes. Serves 8.
South Carolina Peach Tart
These small peaches were purchased at our local farmers' market. I like to leave the skin on the fruit, even when I'm serving peaches on a salad.
1 (11-ounce) package frozen puff pastry
6 small peaches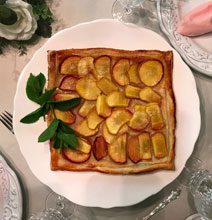 1/3 cup sugar plus 2 tablespoons sugar
4 tablespoons butter
1 egg, beaten
Fresh whipped cream
Fresh mint leaves, to garnish
Thaw puff pastry in the refrigerator, according to package directions. Preheat oven to 400 degrees. Line a large baking sheet with aluminum foil; grease lightly with cooking spray. Carefully unfold each sheet of puff pastry and place then side by side on the prepared pan. Score the edges of the pastry with a knife, about ½-inch from the edges, being careful not to cut through the pastry. Slice peaches into thin pieces and place evenly on both sheets of puff pastry. Sprinkle the peaches with 1/3 cup sugar. Cut the butter into small pieces and dot the tops of the tarts. Brush the edges of the pastry with the beaten egg. Cook in preheated oven for 30 to 35 minutes or until pastry is puffed and golden. Remove from oven and sprinkle warm tarts with remaining 2 tablespoons of sugar. Remove from the baking sheet and cool on baking racks. Serve warm or at room temperature with whipped cream and fresh mint. Serves 12.
The writer owns Catering by Debbi Covington and is the author of three cookbooks, Celebrate Beaufort, Celebrate Everything! and Dining Under the Carolina Moon. Debbi's website address is www.cateringbydebbicovington.com. She may be reached at 525-0350 or by email at dbc@cateringbydebbicovington.com.