The Harbormasters Men's' Barbershop Chorus will present a rousing concert of music from the 50s and 60s, "Welcome to the Fixties", on Saturday October 3rd, 2009 with two presentations … a matinee at 2:00 pm and an evening performance at 7:00 pm.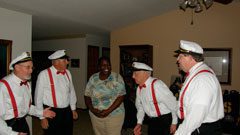 Appearing with the Harbormasters will be the local lady barbershoppers, The Beaufort Belles; a local quartet known as "Eu-4-ia" and The King of Rock-N-Roll, Elvis Presley.
"You will not be able to keep your feet still when you hear this musical collage of tunes that will take you back to a more innocent time," states Musical Director Cliff Kosier. "Welcome to the Fixties' will be full of tunes from such greats as Neil Sedaka, The Beatles, Paul Anka and The Everley Brothers with a few songs from Broadway included," adds Kosier.
Tickets for this concert can be purchased from members of The Harbormasters and Beaufort Belles. Also, tickets to either the matinee or evening performance can be purchased through the USCB Performing Arts Center's box office by calling 843-521-4145. Downtown, tickets can be purchased at The Gallery (802 Bay Street) and the Spirit of Old Beaufort (1001 Bay Street).
Last time, part of the proceeds from this musical effort benefitted both the Beaufort Area Boys & Girls Clubs and Friends of Caroline Hospice. This year the group will again choose worthy local charities. "We are very pleased to be able to help support the very essential non-profit organizations within our community. What could be more rewarding than to share a portion of the money received via ticket sales to our concert with local deserving partners?" says Gregg Flowers, president of the chorus.
The Harbormasters Barbershop Chorus is the local chapter of the Barbershop Harmony Society, an international musical organization whose primary purpose is to preserve and promote the singing of barbershop harmony throughout the USA and the world. The local group meets every Monday night at 6:45pm – 9:00pm. All men who enjoy singing are invited to attend one of the Harbormaster's weekly gatherings held at Sea Island Presbyterian Church at 81 Lady's Island Drive (Rt. 802). For more information, please contact the chorus at 838-2401 or by visiting www.beaufortharbormasters.org .