James Otto brings his Nashville-to-Memphis, country-soul blend to Water Festival.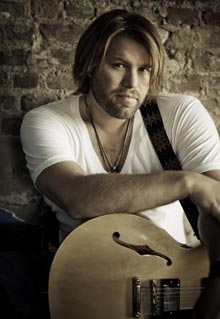 James Otto may be 100 percent country, but he's also got a heart full of soul. On his third album, Shake What God Gave Ya, Nashville's breakout star puts his God-given lung power to work on a set of songs that make even more determined use of the old-school R&B grit in his powerhouse voice. "I look at my sound as somewhere between Nashville and Memphis," says Otto, setting the new record's compass point firmly on the map.
Although Shake What God Gave Ya marks the first time he's explored the country-soul sound so devotedly on record, it won't come as any shock to anyone who heard his earlier smash, "Just Got Started Loving You." Which is a category that should cover just about every country fan, since that tune was declared the No. 1 country single of 2008 by Billboard. When it came time to craft a full-length follow-up, Otto took that ringing vote of confidence as license to lean more heavily on those influences this time around. In other words, he just got started being soulful.
"With 'Just Got Started Loving You,' the beat and groove of that song could easily have been 'I got sunshine on a cloudy day…'—that kind of thing," he says, jubilantly launching into a verse of the Temptations' classic oldie "My Girl." "And the fact that that went over at radio was an eye-opener for me, because it really opened the door for me to be able to do a lot more of that on this album. I never would have expected that it would have gone over the way it did. But I'm really thankful that it did. And hopefully the same people that loved that song will get a lot out of this record."
Otto doesn't just have to have faith that the new material will go over with audiences. A good deal of it has been road-tested, particularly on the 2010 triple-header tour he's undertaken with Toby Keith and Trace Adkins. "I approached writing a lot of these songs with what I really wanted for my live show," he says. That arena-ready thinking bred barnburners like the opening track, "Are Ya With Me," which emphasizes his Southern rock side, and the divine mandate of the title song, "Shake What God Gave Ya," which Otto says "has turned out to be the best live song we have—better than any of the hits—because it gets people off their asses and out of their seats."
That's not to say that it's strictly a party album. "Soldiers & Jesus" could be seen as arriving in the lineage of "In Color," the touching tale of a veteran that Otto co-wrote with and for his friend Jamey Johnson, which earned them Song of the Year trophies at both the CMA and ACM Awards, as well as a Grammy nomination for Best Country Song.
"Soldiers & Jesus" is no rote patriotic anthem. As the grandson of a Korean War veteran, the son of a drill sergeant who was in the military for 23 years, and as a Navy vet himself, Otto feels an intensely personal connection with the song's message… which, he stresses, is not a political one. "Being a guy who considers himself a Christian, I think this song addresses a subject that needs to be addressed. One of the lines is, 'There's a left side, a right side, and then there's the truth.' Regardless of the politics that can often divide our nation … This song basically just wants to lay it out as Christians see it—that there's only two people that ever gave their lives for you, and it's soldiers and Jesus."
And then, landing somewhere between a sober ballad like that and the crowd-baiting rockers, are the album's exercises in slinky, sexy soul. Take the leadoff single, "Groovy Little Summer Song," escapist fare "in the tradition of Carolina shag songs"—by which he means the '60s "shag" genre of east coast beach tunes, though you could be forgiven for favoring the other interpretation.
If you liked "Just Got Started Loving You," you should really love its sequel, "Sun Comes 'Round Again." When I introduce this song, I say, 'This song here is for all of y'all out there who thought 'Just Got Started Loving You' was foreplay and wanted the loving to go on all night long.'"
And Otto arguably saves the best for last by ending the disc with a duet with a legend who was an obvious influence on the entire project, Ronnie Milsap. "He came in and just sang his butt off and told musical stories all day long," Otto beams. "It definitely was one of the greatest moments I've spent in the business, because I got to sit with one of my heroes and hear him sing one of my songs. It was a raise-the-hair-on-your-arms moment."
There's a long and storied tradition of this soulful influence in country music—just not so much lately. Otto's self-appointed task was to contemporize a hybrid style associated with heritage stars like Milsap and Conway Twitty and add some Southern-rock edge to the easygoing soul. In this, he had the strong support of Warner Music Nashville president and CEO John Esposito. And as a collaborator he had revered producer Paul Worley, who was responsible for the Dixie Chicks' 10-times-platinum albums, the biggest hits by Martina McBride and Big & Rich, and most recently helmed the biggest-selling album of 2010, by Lady Antebellum.
"We went straight after it this time, man," says Otto. "My goal on this album was to make a country-soul album. My band and I were playing more of that kind of thing live, and it was really working for us. 'Just Got Started Loving You' was a perfect example of a great country-soul song, and I told everybody involved with this record, 'Look, I want to have a whole album full of that, where it all sounds like it belongs on the same record.' Like Ray Charles did Modern Sounds in Country and Western Music, going in to do a country record, we were going to come at that from the other side."
Otto hails from the great Northwest, which hasn't turned out a huge number of country stars, though it hasn't been for lack of local interest. "Country music is actually really big up there. I know when people think of Washington state they think of Seattle, but the side of WA that I'm from, which is the high plains/desert side, is all straight-up agricultural." Not that he isn't equally proud of being a Nashvillian, which you might guess from his ability to pinpoint the date he made the move ("thirteen years ago, August 4").
Otto was one of the cofounders of Nashville's genre-bending Muzik Mafia, whose weekly club shows in the early and mid-'00s were the springboard to stardom for pals like Big & Rich and Gretchen Wilson. "I had been one of the original founding members of Muzik Mafia, from the very first show, and that was where I started thinking I might still get a shot at making music the way I wanted to make it," he says. "It was very influential in my musical thinking, allowing me to be much more adventurous musically than any record label was going to let me be." Anyone who attended those historic shows knew about Otto's full range of influences. The most popular song in his set in those early days was perhaps the most R&B-inflected thing he's ever written—"Good Thing's Gone Bad," which Otto never put on an album until now.
But there was little evidence he'd head in this direction on his first album, Days of Our Lives, which was released on Mercury Records back in 2004.
By 2008, Otto was with Warner Bros. Records. His sophomore album, Sunset Man—co-produced by John Rich and Otto with several tracks produced by Rascal Flatts' Jay DeMarcus (Otto's brother-in-law) and Otto—had a lighter feel. That change wasn't just a cosmetic one. "When 'Just Got Started Loving You' came out, I think that people who knew the earlier stuff may have thought that it was not necessarily who I was. Actually, it was a good, honest reflection of where I was going." Besides the stylistic shifts, "I was living a totally different personal life by that point. In love with and newly married to my wife Amy, I was in a much better, happier place; we've been married now for five years and welcomed our first child, Ava Katherine Otto, into the world on Aug. 24, 2010. The changes definitely represented where I was at the time, and continue to be where my music is pushing me these days."
But whatever fraternity Otto falls into—whether it was Muzik Mafia in the mid-'00s or a Toby-led tour now—it's clear that he has a singular identity that doesn't exactly jibe with anything any other leading light in country music is up to. And that's all right with him. Where he soulfully leads, he believes others will follow.
"As much as there's all these different fractures of country music these days—you have pop country, rock country, traditional country, alt-country, and all these things in between—I don't know why country-soul couldn't exist right alongside it all." Shake What God Gave Ya is such a blast, spanning the spectrum from rump-shaking motivationals to pure romance, that even if Otto were country music's sole soul man, that'd be genre enough.
James Otto will perform at the Beaufort Water Festival in Waterfront Park on Saturday, July 14th. For more information, visit www.bftwaterfestival.com