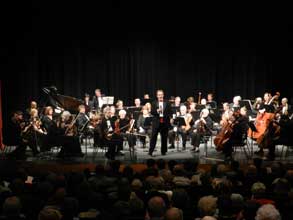 Beaufort Symphony Orchestra has something for everyone in their "Fa LaLaLaLa" Winter Holiday Concert at USCB Center for the Arts on Dec. 5 and 8. Maestro Fred Devyatkin has filled our musical stocking with Handel, Vivaldi and Tchaikovsky, topped it off with traditional Christmas and Hanukah songs, and then added a rousing finale of holiday sing-along favorites to rev up your holiday spirit!
The celebration will open with the Overture from one of the season's most iconic works, Handel's "Messiah." The "Sinfony" is one of only two purely instrumental movements composed for oboes and strings in the style of a French Overture popular during the Baroque period. Written in 1741, the music continues to awe and inspire musicians and audiences to this day.
Three young musicians featured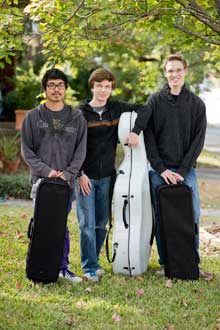 Vivaldi's Concerto Grosso in D minor, opus 3, no. 11 for two violins and cello will feature three talented young musicians, Willy Spivey and Luke Emmoth on violin, and Peter Devyatkin on cello. Spivey and Devyatkin are seniors at Savannah Arts Academy where Spievy is concertmaster of the orchestra and Devyatkin is principal cellist. Al three are members of the Beaufort Symphony Youth Orchestra, where Spievy and Emmoth are co-concertmasters, and Devyatkin is principal cellist. Emmoth is a senior at St. Andrew's School in Savannah where he is concertmaster of the orchestra, which is directed by Fred Devyatkin. All three are also musicians in the Beaufort Symphony Orchestra.
The third piece is the "Nutcracker Suite," an instrumental extracted by its composer, Tchaikovsky, from one of his most famous compositions "The Nutcracker Ballet" written for the Christmas season in 1892. The suite was an instant success but the ballet took much longer to gain popularity. It was not performed outside of Russia until 1934, and debuted in this country ten years later. Today it is one of the season's most beloved entertainment traditions.
Four most popular Christmas songs were not written for the holidays!
The second portion of the concert will celebrate the season with a wonderful mix of traditional compositions going back to the 1800's. "Jingle Bells" is one of the most internationally recognizable secular holiday songs ever written – but originally it was a Thanksgiving song called "One Horse Open Sleigh" written in 1857 by James Lord Pierpont. He reprinted it two years later under the "Jingle Bells" title.
"Sleigh Ride" is another song that was not written for the holiday but has become one of the top ten most popular pieces of Christmas music worldwide. Written as an instrumental by Leroy Anderson in 1946, the lyrics were added by Mitchell Parish several years later. "Carol of the Bells" is based on traditional Ukrainian folk music associated with the coming of the New Year, which in pre-Christian Ukraine took place with the coming of spring. The original composition was written in 1916. It gained popularity with Western audiences in the 1920's, and an alternate English version, "Ring Christmas Bells," with more Nativity-based lyrics was introduced in 1947. "Winter Wonderland" is regarded as a Christmas song although the holiday is never mentioned in the lyrics. Richard Smith was inspired to write the lyrics in the early 1930's after seeing a park covered in snow. He showed them to a composer friend, Felix Bernard, who wrote the music in 1934 and the song quickly became a holiday classic.
Hebrew folk song well known by Jews and non-Jews alike
"Hava Nagila" is a Jewish traditional folk song that has become as well known by non-Jews as it is in the Jewish community. Translated from Hebrew, it means "Let us rejoice" and was probably composed by Abraham Zevi Idelsohn, known as the father of Jewish musicology, in 1918.
Mysterious train ride to the North Pole
A contemporary Christmas favorite for orchastras is "The Concert Suite from The Polar Express," the title song to an animated movie based on a book written in 1985 by Chris Van Allsburg. Award-winning film and television composer and conductor, Alan Silvestri, composed the music for the film, which debuted in 2004. Since then it has become a traditional favorite.
Famous medley of Christmas songs
A famous work against which all other Christmas medleys are judged is "A Christmas Festival." Written by Leroy Anderson in 1950, it is an amazing arrangement of many favorite Christmas tunes, including "Joy to the World," "Deck the Halls," "Silent Night" and "Adeste Fideles" among many others.
Finale of Holiday Sing-Alongs
The concert will end with an audience sing-along program of several season favorites to send you home filled with the spirit of the holidays. So mark you calendars and make your plans to attend the concert on Thursday, Dec. 5 at 8:00 p.m. or Sunday, Dec. 8 at 3:00 p.m. All tickets are $37.50 with assigned seating. Go to TIX.com to order online or call 1-800-595-4849. For savings with seasonal tickets go to the website at www.beaufortorchestra.org to print a subscription form or order online.
This concert is funded in part by the Carolina Arts Commission which receives support from the National Endowment for the Arts.