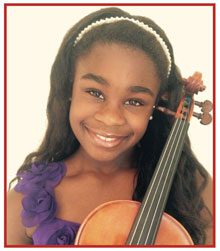 The Lowcountry Wind Symphony will round out its third season with a program entitled 'Cinematic Highlights.' Back to back free concerts will be presented at 7 pm on Saturday, April 21 at Lord of Life Lutheran Church, 351 Buckwalter Parkway; and Sunday, April 22 at 4 pm at St. John's Lutheran Church, 157 Lady's Island Dr. in Beaufort. Music director, Donald F. Jemella, has selected an exciting program of music from the silver screen. Said Jemella, "When you can bring together music by Rogers and Hammerstein, Maurice Ravel, Glenn Miller, John Williams, and a special guest artist, as we do for this concert, the result is a musical event that appeals to audiences of all ages."               
Thirteen-year-old violinist, Kearston Gonzales of Hampton, VA will be the featured soloist, performing the 'Theme from Schindler's List' by John Williams. Miss Gonzales began her music studies in the Suzuki Method at the age of three, working with Mrs. Dorothy Mauney of Hilton Head Island. Since then she and her instrument have been a perfect match. She was the first place winner of the York River Symphony Concerto Competition and the Armstrong Atlantic Youth Orchestra Concerto Competition, and the first runner up in 2013 and 2015 Music Academy of North Carolina Strings Competition. She made her orchestral debut at the age of nine, performing Vivaldi's 'Concerto in G Minor' with the Georgia Philharmonic in Atlanta.
Together, she and her sister, eleven-year-old cellist Kendall, have been invited to play the National Anthem at numerous professional sporting events. Both girls participated in the Heifetz PEG program for exceptionally gifted string players held at Mary Baldwin College, Virginia in 2016. When not practicing, Kearston enjoys gardening, sailing, studying languages, and playing piano.  
Prolific composer, John Williams wrote the score for the Oscar-winning historical film, Schindlers' List, directed by Steven Spielberg. The film relates a period in the life of Oskar Schindler, an ethnic German businessman, who saved the lives of more than a thousand mostly Polish-Jewish refugees from the WWII Holocaust by employing them in his factories. The film's poignant and beautiful theme, once heard, will remain forever in your heart.
The name of composer, John Williams, is synonymous with wonderful film scores. The symphonic style he created for his films is evidenced in 'Soaring With John Williams,' chosen by LWS for this program. Robert W. Smith's arrangement offers three of his most popular and recognizable melodies – 'Superman March,' 'Cadillac of the Skies' and 'Star Wars March.' This selection as well as 'Crooner's Serenade' will be directed by Assistant Conductor, Deborah Hamner.
The Swing Band Era was in its heyday in the 'Roaring Twenties' and throughout the 1930's. Glenn Miller, the Dorsey Brothers, Benny Goodman, and many more bandleaders were household names during a time when the United States struggled to pull itself out of a terrible depression that touched the lives of nearly everyone. Young people sought out these touring musical groups, finding pleasure and diversion in dancing to the mellow sounds in local dance halls across the country. When World War II broke out, many of the bands entertained our troops on foreign shores, helping to maintain morale. After a half century this wonderful 'big band sound' has been reintroduced to new generations eager to listen and recreate its timeless music. Glenn Miller appeared in three Hollywood movies, and was played by Jimmy Stewart in the popular screen release, "The Glenn Miller Story." LWS highlights five of his classic hits in Paul Murtha's arrangement of 'Glenn Miller in Concert.'  
Chicago hit the big screen in 2002, exploring the themes of celebrity, scandal, and corruption in the Jazz Age and the gangster-era in the city of Chicago. It won six Academy Awards, including Best Picture and was the first musical to win Best Picture since 'Oliver' did so in 1969. Lowcountry Wind Symphony swings through this Ted Ricketts arrangement, which displays high energy and outstanding treatments of themes from the movie. The medley includes 'And All That Jazz,' 'Cell Block Tango,' 'Roxie,' and 'They Both Reached for the Gun.'
Gettysburg Main Title – For three days in July 1863 the Union and Confederate forces waged one of the fiercest and bloodiest battles of the Civil War. These events and changes of fortune are captured in the 1993 movie, Gettysburg, adapted from the historical novel The Killer Angels. The film stars Tom Berenger, Jeff Daniels, and Martin Sheen. The score, composed by Randy Edelman, and rendered by LWS, was arranged by John Moss.
Bolero is a one-movement orchestral piece by French composer Maurice Ravel, originally commissioned for the Russian Ballet in 1928. It is a set of 18 variations on a two-part theme, beginning softly and ending, according to the composer's instruction, 'as loudly as possible'! Although often heard on symphonic concert programs and in many films, many movie goers will vividly recall its role in the plot of '10,' a 1979 American romantic comedy film written, produced, and directed by Blake Edwards. It starred Dudley Moore, Julie Andrews and introduced Bo Derek. Jay Bocook has arranged this unforgettable composition for concert band, carefully retaining the intent of the original Ravel orchestration.
Music lovers everywhere are invited to a concert you will not want to miss, as LWS continues 'Exploring What's Musically Possible' in concert band repertoire.
Lowcountry Wind Symphony invites brass, wind, and percussion players, who are serious about making music and willing to attend rehearsals regularly, to join. For more information, contact Bobbi Logan 843-705-3289 or Chris Raskind 843-838-6744.                                
These performances are free and open to the public, however donations are gratefully received.