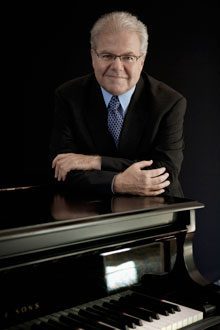 The Hilton Head Symphony Orchestra begins the season with a special performance, a Mozart Fest and Gala. World-renowned pianist, Emanuel Ax is joining the orchestra for the beginning of the HHSO 2017-2018 Season on Monday evening, September 18, 2017. He is considered one of the finest concert pianists of the 21st century. A gala will follow the performance at the Hilton Head Westin Resort and Spa.
A Grammy award-winning, Polish-born naturalized American classical pianist, an internationally acclaimed performer, a teacher on the faculty of The Juilliard School and the main duo recital partner of cellist Yo-Yo Ma, Ax will play Mozart'€™s Piano Concerto No. 19, Mozart'€™s Piano Concerto No. 27 and Haydn'€™s Armida Overture.


From 1970, when Ax graduated from Columbia University with a Bachelor of Arts degree in French, he participated in many major international competitions, including the Vianna da Motta in Portugal, the Queen Elisabeth in Belgium and the Chopin in Warsaw. However, it was in 1974 that he won the inaugural Arthur Rubinstein Competition in Tel Aviv. It was this win that sparked the beginning of Ax'€s successful career as a concert pianist. He continues to perform around eighty concerts a year.
Emanuel Ax has been an exclusive Sony Classical recording artist since 1987. Recent releases include Strauss'€™s Enoch Arden narrated by Patrick Stewart; discs of two-piano music by Johannes Brahms and Sergei Rachmaninov with Yefim Bronfman; and soon to be released Felix Mendelssohn Trios with Yo-Yo Ma and Itzhak Perlman. Ax has received Grammy awards for the second and third volumes of his cycle of Haydn'€™s piano sonatas, and has also made a series of Grammy-winning recordings with cellist Yo-Yo Ma of the Beethoven and Brahms sonatas for cello and piano.
He is a Fellow of the American Academy of Arts and Sciences and holds honorary doctorates of music from Yale and Columbia Universities. This is a special one-night performance and gala and tickets, $100, $90 and $50, may be purchased online at www.hhso.org or by calling the box office at 843-842-2055.