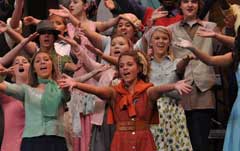 Hundreds of Beaufortonians have come to appreciate the exceptional vocal program at Beaufort High School, fondly known as the "Voices."  Well get ready – there is another high school chorus coming to town that Voices director Vic Varner says is among the very best in the country.  The Clover High School Choraliers is a 100-member auditioned SATB choir with a long daisy chain of honors.  The ensemble is 5-time first place winner of the South Carolina Choral Festival, and has performed for numerous statewide organizations, including special appearances at the Governor's Mansion.  The Choraliers have appeared at choral festivals in Atlanta, Orlando, Williamsburg, New York City, and as special guest with The Charlotte Symphony Orchestra.  Knowing that our Voices have booked some prestigious venues as well, we decided to ask Vic Varner why he so's excited about the Choraliers performing in Beaufort.
What sets the Clover group apart?
It is hard to believe the Choraliers are a high school ensemble.  They are so advanced in their singing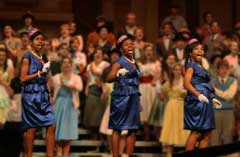 and performance skills, they are more comparable to a really good college choir.  They really are one of the best high school choirs in the United States.
You have known their director for some time?
Yes.  Jay Forrest is 10 years younger than I am, but he is one of my best friends.  We met while I was a graduate student at Winthrop and he was an undergrad.  I noticed right away what a fine pianist he was and asked him to play piano for my groups while I was teaching at Northwestern High School in Rock Hill.  Through that experience, Jay decided to become a choral director and the rest is history.  We have also played many "gigs" together with him on the piano and myself on guitar and vocal.
Why has Mr. Forrest's program been so successful?
Jay has enormous talent, and he is a real life "pied piper."  He leads and kids follow.  But, more than that, the Clover School District sees that choral students receive excellent training at the elementary and middle school levels, as well as in high school.  Jay leads a team of four choral arts teachers to manage the elementary and middle programs as a feeder system for the Choraliers.  Their efforts are coordinated to develop strong musicianship, including sight-reading skills, through the feeder program prior to the high school program.
What will the Choraliers be performing in Beaufort?
They will open with a set of choral pieces that will amaze our audience.  Even in you aren't a classical music fan, you will enjoy listening because it is done so well.  Next, they will perform a staged medley from the "Little Shop of Horrors" with full band accompaniment, choreography, acting, solos and special costuming for the "plant" directly from the Broadway stage in New York.   If you enjoyed our Voices' rendition of "The Wizard of Oz," I guarantee you will marvel at the Choraliers production of the Little Shop of Horrors.
Date: Saturday, May 15
Time: 8:00 PM
Location: The Arts Center at Beaufort High School
Admission:  $5  at the door, or request tickets in advance at bhsvoices@gmail.