Margit Resch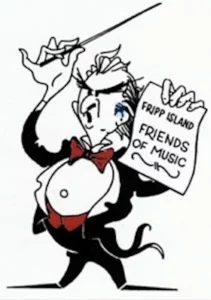 We, the Fripp Island Friends of Music, invite you—no doubt also a friend of music—to join us for our 39th concert season. Membership, and thus access to all five concerts, is still only $100 per person. Tickets for non-members are $30 per person per concert. Included is a gathering after the performance where you can meet the musicians and enjoy delicious hors d'oeuvres by Harold's Chef Services. What a deal! Where would you find a fabulous concert and free nibbles for $20 or even $30? And believe me, the musicians are world- class. Your attendance also helps us fund our Music-in-the-Schools program, where the musicians perform at a local school on the day after the concert.
Our season starts Sunday, October 22 at 5:00 pm with singer/songwriter Erin Bode and Grammy-award-winning pianist and composer Taylor Eigsti. Erin, a Minnesota native, has been delighting audiences with her pure voice, impressive phrasing and jazzy style for two decades, and her eight albums are all hits. You will not forget her singing and her songs, so the critics insist. Taylor Eigsti from Menlo Park, CA, also has eight albums to his name. He has toured and recorded with dozens of luminaries like Dave Brubeck, Chris Botti, Joshua Redman, Sting, John Mayer, Esperanza Spalding, and Chick Corea. Taylor and Erin together are unforgettable, you will agree.
On November 12, the Robert Lewis Quartet, which is enjoying a growing presence in the jazz community of the American South, will, no doubt, leave its remarkable mark on us. Robert Lewis has been hailed the most talented saxophonist in South Carolina. He is also a multi-instrumentalist, composer, arranger, band leader and educator. He serves as the Director of Jazz Studies at the College of Charleston and leads the acclaimed Charleston Jazz Orchestra, assembles laudable musicians for his trios and quartets. We might be privileged to experience both the performer and the educator.
Join us to welcome the New Year on January 7 with the intriguing Trio Encore. Judy Teehan, flute, Margaret Herlehy, oboe, and Dan Weiser, piano, will entertain us with what they described as follows: "Dancing rhythms and playful harmonics will bend and blend to create perfect sound! A carefully curated selection of well-loved classics and an introduction to new-found inspirations. Don't miss this seasoned arsenal of award-winning musicians who bring the very best to each and every music performance!" I believe that you will come to agree with the music critic of the Newburyport Daily News, Massachusetts, who considered the combination of oboe and flute a "perfect blend."
You cannot miss the concert on February 25, when the world-renowned classical pianist Svetlana Smolina will honor us with her aural pleasures. According to The Herald Tribune, she brings the "audience close to frenzy, just as Chopin did in his concerts." And The Day claims she "gets the most extended standing ovations ever." Svetlana has enjoyed these kinds of remarkable responses all over the world, whether playing solo or with prestigious orchestras. Needless to say she has won countless international competitions and awards. She will certainly win our admiration.
Our season will be concluded on March 24 by the eclectic Afro-American ensemble named Roots Grown Deep under the stewardship of Joel Karabo Elliott, who, to quote from his website, is an "Amer-Afrikan composer" and "musical healer." His concert promises to be a unique blend of guitar, voice, winds, piano and percussion, a unique blend of American and South African musical compositions, a genre-defying, captivating international musical feast, unlike anything you have heard before, I am sure.
To become a member of the Fripp Island Friends of Music, visit www.frippfriendsofmusic.com, or contact our Membership Chair Vanessa Peñaherrera at (704) 807-0255 or vandy116@gmail.com. The Sunday concerts take place at 5:00 pm in the Community Center, 205 Tarpon Boulevard. Tickets at the door: adults $30, students free, thanks to the Peg Gorham Memorial Fund. You get a free pass through the Fripp Island Security Gate. And remember: You are invited to join the musicians at a complimentary catered reception after the performance. We hope to see you there.