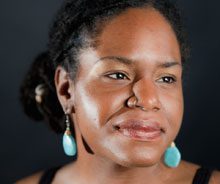 In partnership with historic Grace Chapel AME Church, the Pat Conroy Literary Center presents a community poetry reading featuring eight talented writers from South Carolina, representing Palmetto State natives and newcomers alike. €œPoetry of Place€ will explore (among other subjects) our inherent connectivity to a sense of place, be that home or elsewhere, real or imagined.
Headlining the Poetry of Place reading is DeLana R.A. Dameron (left), the 2008 winner of the South Carolina Poetry Book Prize now touring for her second collection, Weary Kingdom. Joining Dameron are poets Tim Conroy, Elijah Heyward Jr., Miho Kinnas, Susan Madison, Quitman Marshall, Elizabeth Robin, and Olivia Stiffler.
FREE and open the public, the poetry reading will be held on Thursday, June 8, from 5:30 to 7:00 p.m. at Grace Chapel (502 Charles St.), with a reception and book signing to follow at the Pat Conroy Literary Center (308 Charles St.).
About the Poets:
TIM CONROY is a former special education teacher, school administrator, and vice president of the South Carolina Autism Society. His poetry and short fiction have been published in literary journals, including Fall Lines, and he is completing his first chapbook. A founding board member of the Pat Conroy Literary Center, established in his brother's honor, Conroy lives and writes in Columbia.
DeLANA R.A. DAMERON's second collection of poems Weary Kingdom is part of the USC Press Palmetto Poetry Series edited by Nikky Finney. Dameron'€™s debut collection How God Ends Us was selected by Elizabeth Alexander as winner of the 2008 South Carolina Poetry Book Prize. She holds a Master of Fine Arts in Poetry from New York University where she was a Goldwater Hospital Writer's workshop fellow. Her work has appeared in the Los Angeles Review of Books, ARTS.BLACK, Storyscape Journal, The Rumpus, Epiphany Magazine, Tidal Basin Review, and New Sound Journal. A South Carolina native, Dameron lives in New York.
ELIJAH HEYWARD JR. was born and raised in Beaufort. A graduate of South Carolina State University and veteran of the U.S. Air Force, he is an ordained minister who taught in Beaufort County schools for more than thirty years. His books include Stories and Poems of a Gullah Native and Shade: An Awakening.
MIHO KINNAS is the author of the chapbook Today, Fish Only. Born and raised in Japan, Kinnas lives on Hilton Head Island where she is a member of the Island Writers Network. She holds an M.F.A. in poetry from the City University of Hong Kong.
SUSAN MADISON is a resident of St. Helena Island and a native of Chicago, where she studied fiction and poetry at Columbia College. Her work has appeared in Chicken Soup for the African American Woman's Soul, her chapbook i can'€™t sing the blues, and Gullah Paths: Voices from the Past. Madison is a member of the Gullah Africa Diaspora Artists Guild and the Low Country Spirit Writers.
QUITMAN MARSHALL was born in Columbia, South Carolina, and grew up there and in Barcelona, Spain. He was the founding coordinator of the Literary Series at Spoleto Festival USA. Marshall is the 1996 winner of the Writers Exchange Award sponsored by Poets & Writers, and his book of poems You Were Born One Time won the 2013 South Carolina Poetry Archives Book Prize. He lives in Beaufort.
ELIZABETH ROBIN retired to Hilton Head Island after a 33-year teaching career to devote herself to writing. Her work appears in The Fourth River, Foliate Oak Literary Magazine, I am not a silent poet, Autumn Sky Poetry Daily, Curly Mind, The Skinny Journal, The Breeze, and the Island Writers'€™ Network'€™s Time and Tide. She is the author of the newly published chapbook Silk Purses & Lemonade.
OLIVIA STIFFLER is the author of the poetry collections Otherwise We Are Safe (selected by Writers Almanac for its Best of 2014 list) and Hiding in Plain Sight. After spending her working life in the hills of Missouri, Stiffler retired to Bluffton where she has embraced her love of writing in her new home in the Lowcountry.