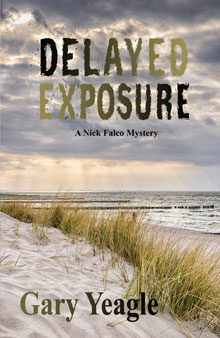 Two years ago, Beaufort readers were introduced to
Lowcountry Burn
and its protagonist Nick Falco. As the story began, Nick learned he'd inherited a great deal of money from his grandmother, along with her house on beautiful Fripp Island, where he'd dreamed of living since he was a boy. But Nick's new dream life suddenly took a turn for the nightmarish when he discovered that two strange men from New York were following him and his new girlfriend had a maniac for an ex-boyfriend. Throw in a serial killer wreaking havoc throughout Beaufort County, and you had the makings of a terrific mystery.
         Now, Lowcountry Burn author Gary Yeagle is back with a sequel, starring none other than Nick Falco. In Delayed Exposure, Nick faces a new mystery on Fripp. It's been 27 years since the fateful night when two Beaufort High School students were killed on the secluded beach there. After almost three decades, the case remains unsolved . . . until, by a twist of fate, Nick and Shelby Lee Pickett discover devastating evidence that could blow the cold case out of the water.
         Despite the fact that it's winter in the Lowcountry, and the weather is colder than usual, things heat up as Nick and Shelby Lee begin to uncover what really happened that long ago night on Fripp . . . and, ultimately, the identity of the killer.
         Gary Yeagle is the author of several other books, including Little Big Men – The Road to Williamsport; Angel's Footprints; and Seasons, Echoes, and Shadows of Death, a trilogy of mysteries set in the Smokey Mountains.
         Yeagle lives with his wife in St. Louis, Missouri, but will be visiting the Beaufort area in September. He has book signings lined up at the following locations: McIntosh Book Shoppe in downtown Beaufort on Thursday & Friday Sept.15 & 16 from 11 am – 4 pm; Bonito Boathouse on Fripp Island on Saturday Sept. 17 from 5 – 9 pm; Bill's Liquor Store on Lady's Island on Wednesday & Thursday, Sept. 21 & 22 from 11 am – 4 pm.
         Yeagle will be promoting both Lowcountry Burn and Delayed Exposure while he's here in our area. He's always happy to talk to readers, or potential readers. For more information, call him at 502-741-5889.