Beaufort-based author T.D. (Tim) Johnston has been named the winner of the 2017 International Book Award for Short Fiction, for his short-story collection Friday Afternoon and Other Stories. Johnston's book, which contains a dozen short stories, has drawn rave reviews since its publication last year.
Our own Margaret Evans wrote, "Storyteller T.D. Johnston is a closer. He knows the secret that some writers never learn – that a great story demands a great ending. Some of his endings are deliciously open -€" almost like new beginnings -€" while others are as shocking and final as a door slammed in your face. In story after tantalizing story, Johnston sends his variously-flawed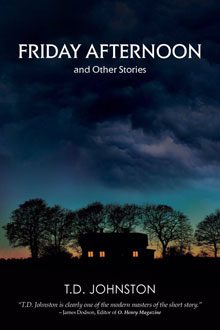 characters wobbling down the brutal balance beam of human existence – building tension as they go – then sticks his landing like an Olympic gymnast. Only then do we realize we've been holding our breath… and sometimes holding back tears."
Johnston'€™s work was already destined to reach a wide audience before being recognized with this international award. The book'€™s title story is currently in film production in California.
"I'm thrilled to receive this honor, not only for my work but for the Lowcountry, which has such a rich literary tradition," Johnston said.
Friday Afternoon and Other Stories is available locally at Macintosh Books, NeverMore Books, Beaufort Bookstore, Magnolia Cafe, Barnes and Noble, and Mango's (Fripp Island). Readers can also obtain signed and personalized copies directly from Tim by visiting his author website, at www.tdjohnston.com.