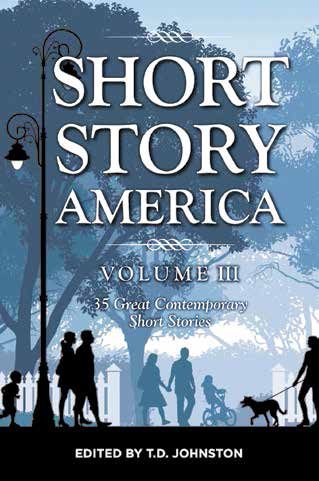 The Second Annual Short Story America Festival and Conference will bring readers, authors and teachers of short stories together again in this new Lowcountry literary tradition. Scheduled for September 26-29 in Beaufort, the event includes readings by authors, workshops on writing stories and on understanding this great literary art form, book signings, the launch of Short Story America, Volume Three, and two great receptions to foster new and old friendships around a mutual passion for stories.
The schedule is loaded, and the all-events pass gets you into everything, so take a look at the expansive schedule, and then register to attend by going to www.shortstoryamerica.com, where you can get your all-events pass for only $50. Beaufort-based Short Story America wants to continue holding the festival in Beaufort every year, and a friendly pass price is considered the best way to make it easy for local readers and writers to attend every year, and for visiting authors and readers to decide to travel to Beaufort.
This year's visiting authors include Anne Serling, author of As I Knew Him: My Dad, Rod Serling (Rod Serling was a great short-story writer and the genius who brought short stories to the screen in The Twilight Zone); Richard Hawley, author of the award-winning novel The Headmaster's Papers and the new collection from Short Story America, The Other World: Stories; Mathieu Cailler, the Los Angeles-based author who won the inaugural Short Story America Prize for Short Fiction; Winston-Salem's Ray Morrison, author of the new collection In a World of Small Truths; prolific short-story writer Eric Witchey of Portland, Oregon; Phoenix's Gary Lawrence, author of the new collection Baffled, San Antonio's Marjorie Brody, author of the new psychological suspense novel Twisted and many short stories; Durham NC's Gregg Cusick, winner of the Lorian Hemingway Prize for Short Fiction; Buffalo's James Goertel, author the collection Carry Each His Burden; Atlanta's pdmac, author of short stories and a novel due out in 2014, Aiken's Joy Hilsman Thomas, Myrtle Beach's D.G. Bracey, and other fine authors coming to Beaufort to join Beaufort-based authors Tim Johnston, Warren Slesinger, Katherine Tandy Brown, C. Steve Johnson, and star stage readers Natalie Daise, Jeff Evans, Bruce Doneff, Gail Westerfield, Mark Shaffer and Teresa Bruce. To see the lineup of workshops, readings, and gatherings, see the schedule here, provided by Lowcountry Weekly as a service to our loyal readers!
Second Annual Short Story America Festival & Conference Schedule
ALL-EVENTS PASS: $50 (includes ALL workshops, readings, and both receptions) Available at www.shortstoryamerica.com or by calling 843-597-3220.
THURSDAY, SEPTEMBER 26 (at Short Story America, 2121 Boundary Street, Suite 204)
6:00-9:00pm Opening Readings (by visiting authors)
FRIDAY, SEPTEMBER 27
(at Short Story America, 2121 Boundary St., Suite 204)
10:00 Workshop: FOR THE LOVE OF IT, FOR THE HELL OF IT (Writing from the heart while working the industry angles)
Presented by JAMES GOERTEL, author of Carry Each His Burden
11:00 Workshop: HOW THE READER BREAKS YOUR WRITING
Presented by ERIC WITCHEY, award-winning author of short fiction
1:00-3:00 Story Readings and Discussion (Classics and New)
3:00 Discussion: THE MENU OF NARRATIVE POINTS OF VIEW
3:30-5:00 First Annual Meeting: THE SHORT STORY WRITERS ASSOCIATION (all writers invited, including new authors)
6:00-9:00 RECEPTION at the historic LEWIS REEVE SAMS HOUSE located at 601 Bay Street, hosted by GWEN AND SCOTT MYERS, with food provided by leading local restaurants.
AFTER PARTY: SALTUS RIVER GRILL, Bay Street, Beaufort waterfront
SATURDAY, SEPTEMBER 28
(at USCB Center for the Arts, 801 Carteret Street)
All Day AUTHOR READINGS in USCB Center for the Arts Theater
9:30 Workshop: HOW TO TEACH YOUR CHARACTERS TO DRIVE STORIES
Presented by ERIC WITCHEY, award-winning author of short fiction
10:00 Lecture: BETWEEN STARVATION AND A BELLYFUL: WILLIAM CULLEN BRYANT AND THE SHORT STORY
Publication of POEMS in 1821 won William Cullen Bryant the respect of a small fraternity of literati, but he knew he could not hope to support his family on critics' admiration or abandon his increasingly noisome law practice in Great Barrington, MA. His solution, in part, was to become a magazine editor, and consequently to write short fiction himself. From 1825 to 1832, he wrote thirteen stories. They cover a wide range, not only in quality but also in their concepts of storytelling. In a body, they can be seen as an early laboratory of possibilities in the form. Literary history tends to leap from Irving to Poe and Hawthorne, but in the intervening decade Bryant produced a few of the century's best American examples of the genre, and they deserve far better than their utter neglect by posterity.
Presented by FRANK GADO, who is about to release an edited collection of short stories by William Cullen Bryant.
11:00 ANNE SERLING, author of AS I KNEW HIM: MY DAD, ROD SERLING
Join the author of the bestselling memoir about her father, Rod Serling, as Anne Serling discusses the timeless significance of THE TWILIGHT ZONE, Rod Serling's genius for storytelling, the time-tested importance of short stories in print and on screen, and reads from her book.
Noon Book Signing: ANNE SERLING, As I Knew Him: My Dad, Rod Serling
12:30 Workshop: EXPRESSING EMOTIONS Emotions. Characters have to display them. Readers have to feel them. Storytellers must go beyond providing authentic emotions for their characters. They must create an emotional response in their readers, e.g., curiosity, excitement, fascination, trepidation, surprise. This hands-on workshop will explore techniques for expressing character emotions in ways that maximize the reader's emotional experience.
Presented by MARJORIE BRODY, author of the new thriller, Twisted
1:30 Lecture: SPEAKING TRUTH TO READERS: WHY THE SHORT STORY FORM ENDURES
RICHARD HAWLEY, the prolific author and educational leader, discusses the importance and resilience of short fiction in American and world cultures.
Presented by RICHARD HAWLEY, author of THE OTHER WORLD: STORIES and the classic 1983 novel, THE HEADMASTER'S PAPERS
2:30 Book Signing and Reading: RICHARD HAWLEY, The Other World: Stories
3:00 Workshop: "WHAT'S YOUR LECTURE ABOUT?" She Asked.
"I TOLD YOU BEFORE: DRAMATIC DIALOGUE," He Said.
We will look at five contemporary short stories (John Cheever's "The Enormous Radio"; Richard Bausch's "The Voices from the Other Room"; Patricia Highsmith's "Something the Cat Dragged In"; Raymond Carver's "A Small, Good Thing"; Eudora Welty's "Petrified Man") and analyze the variance in their dramatic dialogue.
Presented by MATHIEU CAILLER, winner, The Short Story America Prize
4:00 Workshop: PLANT A SEED, START A STORY
When writers congregate, creativity simply crackles. In this workshop, you can tap into the festival's energy by penning the beginning of a short story or even a novel. Join Beaufort freelance writer Katherine Tandy Brown and fellow writers of all genres and levels of experience for a rousing round or two of writing practice based on Natalie Goldberg's classic Writing Down the Bones. Through timed exercises from inspired prompts, you'll end the hour with chunks of fiction in hand to jump-start longer pieces on your own. Who only knows where an inspired beginning may take you?
Presented by KATHERINE TANDY BROWN, author and writing coach
4:00 Story Analysis: GET MORE OUT OF ANY SHORT STORY
Learn and apply a practical and easy 10-step method of short story analysis to improve and enhance your enjoyment, understanding, and writing. This hands-on workshop will present 10 revealing questions to ask of any short story, and will use at least two pieces of flash fiction (one by Ernest Hemingway, one by Joyce Carol Oates) for practice and application. Both readers and writers of short stories will benefit.
Presented by GARY LAWRENCE, author of Baffled and Other Stories
5:00 Book Signing: Gary Lawrence, Baffled and Other Stories
5:30 What Editors Look For: Tim Johnston, Editor, Short Story America
6:00 Awards Reception (libations and heavy hors d'oeuvres included)
7:00 Readings in the USCB Theater (story readings by local performers)
9:00 Announcement: Winner of the Short Story America Prize for Short Fiction
AFTER PARTY: SALTUS RIVER GRILL (Bay Street, Beaufort waterfront)
SUNDAY, SEPTEMBER 29 (at Short Story America)
1:00 WRITE A STORY NOW
The prolific award-winning short-story writer leads attendees into the creation of their own original short stories.
Presented by ERIC WITCHEY
3:00 Children's Story Hour
Authors and local readers share stories with children. This presentation is free to the public, so bring kids for an enjoyable experience with the wonder of stories!
END OF SECOND ANNUAL SHORT STORY AMERICA FESTIVAL AND CONFERENCE