A review of John MacIlroy's new short story collection 'Whatever Happens, Probably Will'
By Elizabeth Robin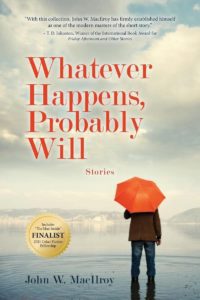 In Whatever Happens, Probably Will, John W. MacIlroy offers the best in a short story collection: all-in-one-sitting entertainment. Eighteen stories birth characters like Bump O'Rourke, former baseball rookie of the year, now a barkeep at Sidetrack Tap. There, a memorial "has the fire-damaged smell of death"—and a portal into spectral territory. His story will raise hairs on forearms.
         MacIlroy develops the internal lives we live riding out storms and plagues and jobs and love. Each read finds another way "to do a little good in a world that could use a lot more." His folksy tone and precise characterization, set from the Mississippi gulf to Newark, New Jersey, depict the Everyman American. Deft insertion of the ominous within common sights—spotting an injured hawk, picking bright blue hydrangeas—adds stylish notes to full-bodied stories that blend human chemistry with essences and end notes like the finest wine. Even the faults are familiar.
         Those who have followed MacIlroy's writing life know it began in 2016, after a career practicing law in New Jersey. His work received notice early and often. Parts of Not Exactly Rocket Scientists earned a spot on syndicated national radio. Stories in this collection appear in Short Fiction Break, Short Story America, Catfish Stew, and Y'all Magazine, where "Duke's" was named Best Short Story of 2019. "The Man Inside" landed two finalist awards in 2021: The Coker Fiction Fellowship and Excellence in Southern Lowcountry Writing. T. D. Johnston, winner of the International Book Award for Friday Afternoon and Other Stories, calls MacIlroy "one of the modern masters of the short story."
         MacIlroy offers the quirkiness of a Winesburg, Ohio cast of
characters, spiced with Poe's economy and that macabre twist into the unknown that feels possible. In the backsides of fellow recruits shuffling through U.S. Army initiation, or the seven-times-married groom's search for a pastor, or the story of a killer and a priest, we find foibles to love.
         As a prose maestro MacIlroy teaches the importance of Duke's mayonnaise, the arrival of the night train, hanging a painting just so. He delights, pokes fun, offers a nostalgic look into a tumble on an old blanket in the back of a Ford. His stories explore life's challenges and pull at the heart: What a life after losing a child, or the brother-in-arms who doesn't come back, looks like. MacIlroy exposes the absurdity and poignancy inside a serious situation. Be prepared to feel everything.

'Whatever Happens, Probably Will' by John W. MacIlroy (Short Story America 2022) is availableAmazon, Barnes and Noble, Books a Million, and all bookstores. John will be appearing at the Short Story America Conference the first weekend in November.
Elizabeth Robin retired to Hilton Head Island after a 33-year teaching career. She has two chapbooks through Finishing Line Press: Where Green Meets Blue (2018) and Silk Purses and Lemonade (2017). A full-length collection, To My Dreamcatcher, is due in 2022. In 2021 she won the Carrie McCray Nickens Fellowship and the John Edward Johnson Prize. A poet that tells the stories of those pushed into the margins, her recent work is in Poetry on the Comet, Catfish Stew, the Poetry Society of SC Yearbook, Ripples, Ukweli, Drunk Monkeys, The Broadkill Review, and Local Life Magazine. Robin emcees an open mic and partners with arts groups to bring literarati to Hilton Head Island. More at: http://www.elizabethrobin.com