The great southern artist is still making pictures of his homeland… and you might just find one in a tree.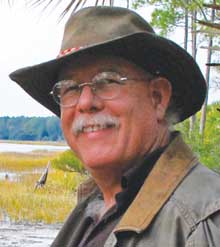 "I am an American painter, an artist in the traditional sense," says West Fraser. "My paintings tend mostly toward documentary, in that the paintings depict certain places, and are naturalistic."
For over three decades, Fraser has been capturing the character, aesthetics and history of this "certain place" we call the Lowcountry.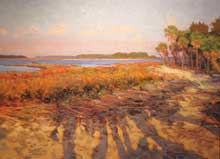 "I was born into an old Southern heritage that has influenced my life's pursuit," he says. "I started painting as a youth, usually knee-deep in local marshes, and am today living as I dreamed then. I have had the good providence to continue this career for more than 30 years—molding my character, resolve, and defining my philosophy. Though I often travel elsewhere to paint other places, the majority of my work has been produced in the land I love and call home—the Lowcountry of South Carolina and Georgia, amongst the draping moss and shore breezes encompassed by Atlantic beaches and sea island waterways."
Beaufort art lovers have an opportunity to view Fraser's work at the I. Pinckney Simons Gallery on Bay Street, where he is currently one of the regular exhibitors.
"The paintings at I. Pinckney are a continuum of my work capturing the spirit & sense of place that I have been painting for 34 years now," says Fraser. "It is all what I call my Portrait of The Lowcountry."
Some of these paintings were in Fraser's exhibition "A Native Son: Paintings by West Fraser" last spring at the Telfair Museum in Savannah. Fraser discussed his work at USCB around the same time, when he was the keynote speaker at the university's second annual "Celebrate the Arts" festival.
Fraser started out as a watercolor artist, but in the 1990s, his growing desire to paint directly from nature forced him to seek out a more flexible and adaptable medium, resulting in a switch to oil. Today, Fraser continues to work in oil, and alternates between plein air painting and studio work (sometimes combining the two). Fraser's paintings have been exhibited in numerous solo and group shows at museums and galleries throughout the country, and his work is held in the permanent collection of Telfair Museums, Morris Museum of Art, Gibbes Museum of Art, Greenville County Museum of Art, California's Laguna Art Museum, and many prominent private and corporate collections.
In recent years, Fraser's sense of gratitude – he's a successful working artist living the life he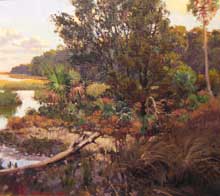 dreamed of from the age of 13! – has inspired him to give back in many ways. One of the more intriguing is an initiative he calls 'Painting in a Tree.'
Fraser explains, "The way this works is, I paint a small painting and I write a message on the back. Such as 'Congratulations! You have found my Painting In A Tree – it is my gift to you but with a string attached. If this gift is accepted, then I ask that you forward a gift to an Art Museum or School, your local High School art program, or your favorite charity, or to some deserving young Artist in need.' I then hang it in a tree. I put a notice on my website, send out emails & news releases to the region where I have hung the painting and wait to hear from a discoverer."
Fraser continues, "The idea was germinated when the crash of 2008 occurred. I felt confident that my career was stable; yet, I was wondering how some of my artist friends would survive. I contemplated a fantasy that a fund for artists could be established, because I knew that a societal 'safety net' did not exist for artists, and that the politics of our nation was leaning away from acknowledging the importance of the arts in our culture. Realizing that I could not commit the time, nor did I have the resources, to spearhead this idea, I defaulted to my own personal efforts in creating a campaign for spreading generosity, and kindness, with small but heavy steps. I did something, although I realized there was not much I could do. What I did was think of a novel approach to a problem that satisfied my needs and produced appropriate results. The responses I have received have been extremely rewarding and I can say that all accounts of the joy of making random acts of kindness are true and I am confident that my gifts have made some difference in peoples lives."
So, far, seven of Fraser's little tree paintings have been found, and as a result, donations have been made to organizations like the Cancer Society, the Wounded Warrior Fund, a memorial fund at the Gibbes Museum of Art, and the Public Art Fund for Hilton Head Island… as well as the Community Health Clinic on Deer Isle, Maine and the College of Art & Design in Halifax, Nova Scotia.
"Now, that is what I call a global initiative," says Fraser.
The Painting in a Tree project is ongoing, Fraser tells us. The last painting was placed in Charleston just before Christmas and found by a lucky Hilton Head couple. Fraser "plants" the paintings at random times, then places a notice on his website (westfraserstudio.com) and Facebook page, then emails are sent out to those on his mailing list. Anybody who's interested in receiving these notices should send their email address to info@westfraserstudio.com
But again, to see a full size West Fraser original – without leaves and branches! – Beaufortonians need only visit the I. Pinckney Simons Gallery at 711 Bay Street. For more information, call 379-4774.