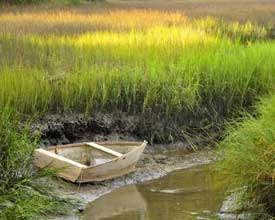 Sixteen photos depicting the beauty, history and traditions of Beaufort County were selected for the County's 2014 land preservation calendar, which will be available for sale in November.
The calendar will help to promote the Rural and Critical Lands Preservation Program, which has conserved more than 22,000 acres of properties throughout the County.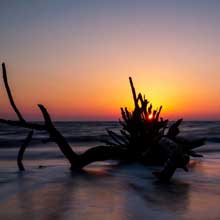 The cover photo, Tree Roots at Sunrise, was taken by Scott Quarforth (see left) on the beach at Hunting Island State Park. Fifteen other winning photos were selected from more than 200 pictures entered in the County's annual photo contest. Winners, photo titles and locations are:
Sandy Dimke -Springtime on the Point, Beaufort
Joan Eckhardt – Bright Blue Morning, Coligny Beach
Phil Heim – Shrimp Boats, Port Royal
Chris Kirk – Harvest Season, St. Helena Sound and The Strand, Calibogue Sound
Tom Lehrer – Oak Avenue, Tomotley Plantation, Sheldon and Gator Gaze, Bluffton
Joanne Long – Bygone Days, Bluffton
Gracene Peluso – Morning Marsh, Hilton Head Island
Patricia Roche – Reflections and Shadows, Daufuskie Island
David Shipper – Waiting Out the Storm, Port Royal and Just Fiddling Around, Port Royal
Dick Snell – A Majestic Early Morning, Beaufort
Josh Whiteside – Oak of Life, Hermitage Road, Beaufort
Barre Wright – Shady Haven, Pick Pocket Plantation, Beaufort
The theme for the photo contest was The Sky's the Limit and the deadline was September 3. Contestants were required to submit pictures inspired by the five symbols in the County seal: oak trees, shrimp boats, marine life, homes, and waterways.
Gary Kubic, Beaufort County Administrator, said the winning entries revealed a variety of subjects that represent life in the Lowcountry. "These amazing photographs clearly demonstrate why we love living here. The photographers who took them captured the true magnificence of our Beaufort County home."
Citizens are encouraged to seek an active role and to stay connected to Beaufort County government. Visit the County's website bcgov.net to like them on Facebook follow them on Twitter and watch County Council meetings live and on-demand via The County Channel.