The 2009 All Saints Episcopal Church Garden Tour will host an exhibit of original works of art inspired by flowers from now through February 7 in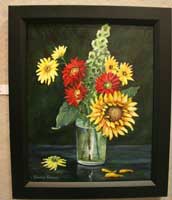 the Hilton Head Branch of the Beaufort County Library, located at 11 Beach City Road.
The library's hours are Monday through Thursday, 9 a.m. to 8 p.m. as well as Friday & Saturday, 9 a.m. to 5 p.m.
Jurors, including Joyce and Don Nagel, as well as Evelyn Kowtko (winner of the 2008 competition), will select one submission to be featured on the 2009, 22nd Annual Garden Tour Poster. The work of art selected for this year's poster will be announced at an artist's reception on January 27 from 5 to 7 p.m. at the Library.
All art, with the exception of the winning one, will be for sale during the exhibition. An established commission fee will be divided between the Garden Tour and the Friends of the Library. The selected poster artist will serve as a juror for 2010. There will be hanging space for 60 works of art.
Visitors to the Library gallery will have an opportunity to vote for "The People's Choice." The winner of this vote will be publicized and receive a cash award. All profits from the Garden Tour are donated to local non-profit organizations. The 2009 beneficiaries will be All Saints Preschool Scholarship Fund, Alzheimer's Respite and Resource, Citizens Opposed to Domestic Violence, Deep Well, and Heroes on Horseback.
The All Saints Garden Tour, "A Potpourri of Gardens," will be held on May 16, 2009.