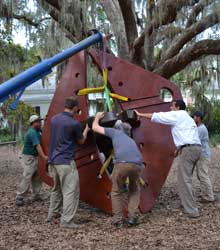 The Public Art Exhibition on Hilton Head opened last weekend at Honey Horn. The second such event presented by the Community Foundation of the Lowcountry, the exhibition is comprised of 20 outdoor sculptures by local, regional, national and international artists.
The full exhibition takes the viewer "Around the Horn," a nearly mile-long trail that begins on the grounds of the Coastal Discovery Museum. With views and access to two boardwalks onto Jarvis Creek on Calibogue Sound, the path meanders through woodlands, planned gardens, a butterfly shed, beehives, as well as historic and contemporary structures along the edge of the creek. Further along, one encounters a pavilion, camellia garden, cemetery, barns, a grape arbor, and open fields and that likewise become natural settings for the sculpture. The path is lush and informal and may be picked up at any point and followed to a work of interest, for close examination and contemplation. It is an experience that combines art, nature, and a built environment in a context of discovery rich culture. Most, if not all of the pieces are available for sale to the public, with a portion of any proceeds collected to be used to fund future Public Art Exhibitions.
The Community Foundation of the Lowcountry established the Public Art Fund in 2006 with a goal to bring art into the public realm and introduce it into the lives of the community, engage and uplift the viewer, add to civic pride, and enhance the unique place that is Hilton Head Island. Beginning with the Charles Fraser "Walking the Alligator" piece installed at Compass Rose Park, the Public Art Fund has laid the groundwork for a program that will benefit the community and its many visitors for years to come. During the first Public Art Exhibition in 2011, the jury chose "Family" by Jonathan Bowling as the piece that would be a permanent part of public art on Hilton Head Island. It is located mid-island on town owned property.
The Public Art Exhibition on Hilton Head is open to the public Monday – Saturday, 9:00am – 4:30pm, and Sunday 11:00am – 3:00pm. Admission is free and there will be docent led tours scheduled throughout the event. The Exhibition runs through the end of the year.