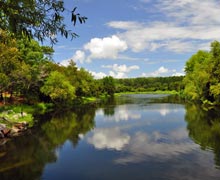 A photo of Stony Preserve by Bluffton resident, Stan Abrahamson, was selected for the cover of the 2012 Beaufort County Rural and Critical Lands Calendar.
The photo shows a forested lagoon area at the preserve, which was purchased jointly by Beaufort County and the Town of Hilton Head Island for conservation as a passive park. 
Twelve other photos selected from entries submitted in the County's annual photo contest include three by Beaufort photographer and artist, Karen Peluso, who entered shots of Lands End, The Green in Beaufort's Old Point neighborhood and White Hall Landing.
Other winning photographers include Marci Tressel, Hal Cherry and Sandra Riley of Hilton Head Island, Ellen Corbett of Dataw Island, Nancy Promislow of Port Royal, and Patricia Roche, Paula Smith and Chris Mitts of Bluffton.
County Administrator Gary Kubic, the calendar's executive editor, said he is always impressed with the quality of the pictures taken by local photographers. "Those who enter the contest year after year are to be applauded regardless of whether they were selected for the calendar or not. Their love for the natural outdoor beauty of Beaufort County is evident in the excellence and the integrity of their work. We are grateful to them all for helping us tell the story of our beloved Rural and Critical Lands with their exceptional photographs."
Six sites acquired by Beaufort County for conservation were identified as locations for the photo contest.  They included Ihly Farm, located near the Marine Corps Air Station, Okatie Preserve in greater Bluffton, Stony Preserve on Hilton Head Island, the Chowan Creek site on St. Helena Island, the Mitchellville Road Property on Hilton Head Island and The Green. County public boat landings were also specified locations for the contest. Abrahamson shot a second winning photo taken at the County's Coosaw Island public boat landing.
The 2012 calendar is being designed by Pamela Uhles Brownstein and is expected to be available for sale sometime in October at the county website and several local shops.