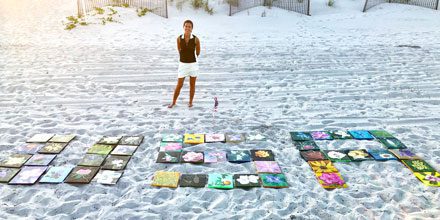 From Alabama's Camellia to Wyoming's Indian Paintbrush, Penny Healy is showing her love for her country one state flower at a time. The local artist captured all 50 state flowers and seascapes for her upcoming art exhibit, "USA From Sea to Shining Sea," at The Society of Bluffton Artists (SOBA) gallery.
The exhibit will run Oct. 4-30 with an opening reception from 3-5 p.m. Sunday, Oct. 11 at the gallery, located in Old Town Bluffton.
Masks will be required, along with other social distancing best practices. The SOBA gallery limits to 6 people at a time in the gallery. Refreshments and networking will be available on the gallery's porch.
Healy has a strong background in the creative arts. One of her pieces will be showcased at theNational Association of Women Artists (NAWA) Juried Show, "Earth to Sky," from Sept. 1-25 at the Art League of Hilton Head gallery, located inside Arts Center of Coastal Carolina at 14 Shelter Cove Lane.
Her work has been displayed at the Christ Church Art Gallery in Charlotte NC, the Pompano Beach Club in Bermuda and the Junior League of Boston 45th Anniversary Show House, The Nathaniel Allen House in West Newton, MA.
Healy painted on and off for decades before painting full-time. She holds a bachelor's in science degree in Design from the Rochester Institute of Technology. She also studied at Richmond College in London, England.
Healy is originally from Massachusetts, where she enjoyed painting a variety of New England subjects along with inspiration from her travels abroad. Her paintings span a broad range of styles, from oil street scenes of Boston and New York to colorful acrylic abstracts.  
In addition to being a member of SOBA, she's also a member of the Art League of Hilton Head and NAWA in New York, Boston and South Carolina. 
Please visit www.sobagallery.com for a complete calendar of events and other information or call 843-757-6586.