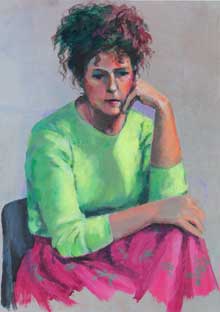 95 years old and creating art is still his passion…
A unique style of portrait work has been a long time focus for Marty Montag. The exhibition, Marty Montag at 95: An Artful Life, Portraits in Pastel and Acrylic demonstrates his talent for creating a likeness, as well as bringing his figures alive with gesture and vivid color. In addition, a remarkable collection of his wartime sketches and watercolors, The Early Years: A Visual Diary of WWII, is displayed in the exhibition.
Montag was born in 1918 and reared in New York City. He began his art career early, receiving his high school's St. Gaudens award, presented to him by Eleanor Roosevelt. He graduated from Pratt Institute in Brooklyn, New York.
His career as a commercial artist spanned five decades in New York, where he specialized in illustration, photographic retouching and full color rendering. He co-chaired the Art League of Manhasset, NY. Retiring to Boca Raton, Florida in 1989, he painted regularly with a group of professional artists at the Bill Griffith Art Studio and Gallery and exhibited at the Boca Museum. He moved to The Cypress on Hilton Head Island, SC in October 2004 and at 95, he is still actively creating new work.
He is proficient in a variety of media including watercolor, oil, acrylic, and pastel. His portrait work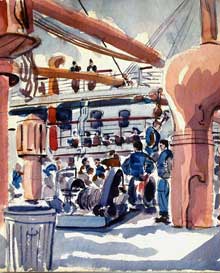 combines the strongest features of the individual with a spontaneous use of imaginative color. His creativity in the use of pastel is particularly unique, where his vibrant palette and bold technique combine to present a spectacular display of imagery.
The sketches and watercolors of army life during World War II reveal his experiences and emotions during that challenging time. He captures moments of relaxation and recreation commemorating the daily lives of soldiers, a profound visual diary of that period.
Marty Montag's art continues to dominate the rhythm of his life – classes, studio visits, gallery openings, and painting almost every day. He challenges himself to create a pleasing piece, using color, composition and technique to invent something exciting from a blank slate.
His work has been on display locally in Bluffton, at the model home at Rose Dhu Plantation, and on Hilton Head Island at the Pink House Gallery on Main Street, the Cypress Art Gallery, Indigo Pines, Bear Creek Golf Club and Hilton Head Regional Medical Center. He is currently an exhibiting member artist at Art League of Hilton Head.
Marty Montag at 95: An Artful Life,
Portraits in Pastel and Acrylic
June 4 – June 29
Monday – Saturday 10am – 4pm
6:30 – 8pm during Arts Center performances
Opening Reception: June 6, from 5 – 7 pm
Art League of Hilton Head at Arts Center of Coastal Carolina's Walter Greer Gallery
14 Shelter Cove Lane
Hilton Head Island