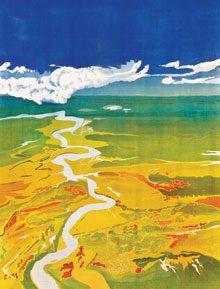 Lowcounty Oils and Silks, an exhibit by world-renowned fabric artist Mary Edna Fraser will be held at USCB Center for the Arts beginning October 16 through November 4, 2015. An opening reception is planned for October 15 from 5:30 – 7 pm. The exhibit is free and open to the public.
         Fraser is an artist who highlights environmental concerns in large scale silk batiks, which are often based on maps, charts, satellite images and the aerial photographs that she takes while flying her family's 1946 propeller plane.
Fraser combines modern chemical Procion dyes, beeswax and paraffin on silk to express a sense of place. Her fascination with the distinctive features of various regions has led her to examine barrier islands, river deltas, mountains, glaciers and threatened landscapes around the world. Space imagery and an excursion to the deep sea have further expanded her range of content. Painting studies on location and exploring the terrain develop her vision. Fraser has created over 500 batiks on silk and had more than 100 solo exhibitions. Deemed a "pilot with a palette" by Michael Kilian of the Chicago Tribune, Fraser has exhibited widely, including being honored as the first woman with a one-person exhibition at the Smithsonian National Air and Space Museum in Washington, DC in 1994-95. Hank Burchard of the Washington Post, reviewing that exhibition, declared that "the batiks amount to visual poetry." 

Collaboration since 1993 with Dr. Orrin Pilkey, Professor Emeritus of Geology at Duke University, has produced two critically-acclaimed texts and exhibitions: A Celebration of the World's Barrier Islands, Columbia University Press, 2003 and Global Climate Change: A Primer, Duke University Press, 2011. She also teams with scientists researching outer space and the deep sea. She has completed numerous public commissions including batiks for the American Embassy in Thailand and NASA. Publications reviewing her work include Smithsonian Magazine, Air and Space and National Geographic.has also exhibited recently at the Penn Center's Folk Art festival, at Art in the Park in Myrtle Beach and at the Artegon in Orlando, FL.