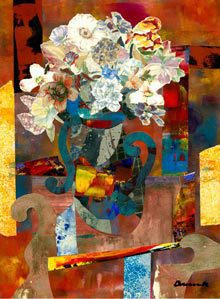 The Work of James Denmark and Dimitri Denmark
Start 2012 with a generational look at beauty: James Denmark, the renowned artist and collagist (including a spot in the Absolut collection in Stockholm) and his grandson Dimitri, based in Florida, join forces to fill the spacious gallery at ARTworks.
In his studio in Yemassee SC, James Denmark creates compositions that go beyond the superficial and transitory. He focuses, instead, on what is eternal and universal. Denmark's work is consistently and eagerly sought after by galleries and collectors worldwide: most notably New York's Metropolitan Museum of Art.
"Trust and faith creates confidence, which allows me to move forward with my work," stated Denmark. "I leave everything to the spirits. I step back every so often to peek at found collage materials, and to ponder new possibilities. I am a party to improvisation, found materials, and the impact of color."
Born in 1935, Denmark was exposed to color and form at an early age by his grandmother, a wire sculptor and quilt artist, by his grandfather, a bricklayer noted for his unique custom design molds, and his mother who was gifted with an intuitive feeling for design and a fastidiousness for detail, which she expressed in all aspects of her daily life. This family tradition continues in grandson Dimitri, who is forging his own artistic career as an adult.
James's career began as an art teacher in the New York public school system. There he met and was nurtured by an immensely talented community of artists, including such abstract expressionists as Jackson Pollack, Clifford Still, and William DeKooning. The African-American masters Norman Lewis, Romare Bearden, Jacob Lawrence, and Ernest Crichlow instilled in him an appreciation of his African-American artistic heritage, and he began experimenting with collage.
Denmark has a natural affinity for the difficult and largely improvisational medium of collage and quickly developed his own unique and easily identifiable style, which can be enjoyed by the public at ARTworks Tuesday through Fridays, 11 to 6, and Saturday afternoons.
Meet the artists at an opening reception on Friday, January 6th from 6 – 8 pm.
ARTworks is the coolest arts council in the Carolinas, and a community arts center that applies the many creative tools of The Arts to strengthen artists, and enrich audiences, collectors, and visitors through high quality arts experiences and arts education programs 365 days a year. 2127 Boundary Street, Beaufort SC 29902, 843-379-2787. http://www.ArtWorksInBeaufort.org.