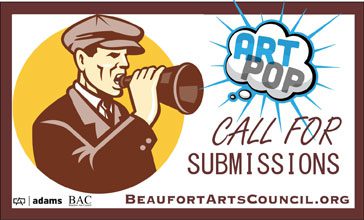 The Beaufort Arts Council and Adams Outdoor Advertising will host a public reception to congratulate the 2016-2017 ArtPop Beaufort Winners on March 23, 2017 from 6pm-8pm at the Port Royal Sound Foundation's Maritime Center, located at 310 Okatie Highway in Okatie, SC.
In partnership with Adams Outdoor Advertising and ArtPop, the Beaufort Arts Council held their second annual ArtPop Beaufort program, a program that promotes local artists work through available media space. Submissions opened on November 14, 2016 and closed January 15, 2017 for artists in Beaufort, Colleton, Hampton and Jasper Counties. The second year of ArtPop more than doubled in submissions from the first year, totaling 150 pieces.
The 10 winners of the 2016-2017 ArtPop Beaufort Program selected by a Jury of seven include: David Shipper, Nancy Adams, Mary Lester, Zach Grether, John K. Crum, Julie Jones, Michael B. Karas, Eve Miller, Sandy Dimke and Michael Reibel. Their winning artwork can be viewed on billboards throughout Beaufort, Colleton, Hampton, and Jasper Counties.
Please visit the BAC website at www.beaufortartscouncil.org for additional information on the winner's and images of their submissions. The ArtPop Beaufort Program directly falls under the Beaufort Arts Council's mission to expand art in the daily lives of residents and visitors through providing opportunities for artists to exhibit and create art.
The mission of ArtPop is to promote local artists work through available media space.  Art + Public Outdoor Project = ArtPop, and it is a nationwide program made possible through the 501(c)3 ArtPop Organization and Adam's Outdoor Advertising. For additional information on the full program, please see www.ArtPopStreetGallery.com.
If you would like more information about this topic, please go to www.beaufortartscouncil.org or email artpop@artsbft.com.