The Beaufort Art Association (BAA) proudly announces the 58th Annual Spring Show and Sale April 5th through April 13th, 2019.
This year our show will be held in our newly renovated gallery located at 913 Bay Street, Beaufort, SC. The BAA Gallery has partnered with the ART WALK on April 5th for a sneak preview of all the artwork from 5-8 pm.
On April 6th, we will be closed for a private event to celebrate our donors who support us year after year. It is not too late to get your invitation to our semi-formal VIP event of wine and hors d'oeuvres and special viewing of the work with a donation of $50. Our gallery will reopen to the public on April 7th and remain open until April 13th.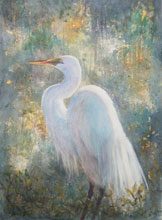 Over 130 artworks will be on display. The Spring Show will feature a diverse range of mediums including, acrylic, drawing, oil, pastel, photography, fiber, mixed media, pottery, jewelry and sculpture. Spring Show will include a top award of $500 for "Best of Show" and a new award "Heritage Michael Pearson Excellence in Watercolor"award for $500.00. The Show will be judged by the prominent artist, Elizabeth Winnel of Savannah College of Art and Design. 
The public is invited to view the artists work and vote on the "People's Choice Award" through our in-store ballot box as well as through social media Facebook and Instagram account. Please visit us at @BeaufortArtAssociation!
The Beaufort Art Association continues in our mission to support the local artists of the low country and all sale proceeds help us continue to promote the beautiful city of Beaufort as one of the Top Small Art Towns in America. 
The show is open to the public daily April 7th-13th from 10am to 5pm at the Beaufort Art Association Gallery at 913 Bay Street. Please visit our website for additional information: www.beaufortartassociation.com
Images above by Tommie Toner, Pam Hagan and Wyn Foland