The Arts are big business in Beaufort County… and getting bigger.
By Mark Shaffer
Some years ago when this reporter was working in a small town in the midlands of South Carolina, the city leaders decided to commission a study on just how to go about attracting industry to the area. Faced with tough economic times and an industrial park that was more park than industrial, they wanted to know what top companies and their employees most valued when considering a move to a new area. As the research was compiled there was much discussion and conjecture about what might top the list. Things like infrastructure, the local school system, airport and interstate access were heavily favored. But when the high-priced consulting firm finally released the finished result, they were all stunned at what topped the list: Quality of Life. To complicate and confuse things further, this engendered an entire sub-category with yet another unforeseen heading at the top of the list: The Arts.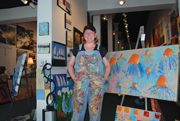 Twenty years later in an American age which can at best be described as economically challenging, the arts have emerged as a major – and perhaps more importantly – growing economic force, a fact the Arts Council of Beaufort County fully intends to develop as it enters what Executive Director J.W. Rone hopes will be a new Golden Age of the arts in the Lowcountry. "We're constantly reaching out and trying to find ways to make people see this and see the value of the arts in the community," says Rone. Part of Rone's optimism is built on two things, the ACBC's huge new space in Beaufort Town Center and a new regional economic impact study with some hefty numbers attached.
A recent national study puts the total domestic economic impact of the nonprofit arts and culture industry at more than 166 billion dollars per year. Last year that included a growth factor of at least 12 percent. A local independent study commissioned by the ACBC and the Beaufort Regional Chamber of Commerce indicates Beaufort County's slice of that pie is a whopping $250 million per year.
Growth in the regional arts scene is mirrored by the ACBC's own need for space. As the 2400 square feet at the 1111 Boundary Street facility were pushed to the limit, the search was on for a new home. The town of Port Royal hoped to woo the Council with the Shed, a refitted warehouse in the heart of the community. Ultimately, the project seemed impractical and costly. Enter 303 Associates and local developer, Dick Stewart.
"He understands the value [of the arts] and I appreciate his vision in the community as a developer and how he takes pride and care in putting together the things that he does," explains Rone.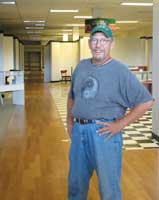 One of those "visions" is the continued evolution of Beaufort Town Center, Stewart's town at the edge of town – a mixed use development on Boundary Street across from the County Government Center. BTC already includes a variety of restaurants, shops, lodging and office space backed up by views of the Intracoastal Waterway and hints of residential development to come. An injection of culture seemed the next logical step in the quality of life equation. Stewart – who also owns the old ACBC location – offered up 10,000 square feet of space at a significantly reduced rate. The move was similar to the developer's initial challenge to the Council in its much smaller digs: he encouraged absolute maximization. ACBC board member and Lowcountry Weekly publisher, Jeff Evans explains that "he [Stewart] puts a little on the table. If you can pick that up and run with it, he'll put more on the table. It's sort of like "prove to me you're a good steward of my largesse."
Such relationships form the essence of a successful and healthy art community. "A lot of people don't understand that partnerships go both ways," says Rone. "When you work with a partner and they see your work coming back and the opportunities to work together, then you build on that. So that's what we've been doing – working to build partnerships." ACBC Board President, Deanna Bowdish has first hand knowledge of the machinations and mysteries of the practical side of the art world as both an artist and owner of The Gallery. "The heavy lifting is that 5 year goal – where are we going to be in five years? We're taking a huge leap in fiscal responsibility for this new space to secure that future and secure that incubation process, but I think we've proved ourselves with what we've been able to achieve."
For the now, the focus of the ACBC is on the new facility and the possibilities it represents as the future arts hub for the county. The space is unofficially dubbed Artworks, a working title Rone thinks just might stick as it aptly captures the concept in a word. The initial plans include a main gallery, seven artists' studios, various classrooms, an art supply store and a black box theater all with "location, location, location," says Rone. And along with the location come luxuries heretofore undreamed of at the old facility. "We've got parking, we've got traffic, we've got security lighting. We've got a safe and secure building." The ACBC also has some fiscal breathing room having finally pumped some black ink into its accounts via the hard work and efforts of the staff, board and volunteers. "This was the opportunity to take the organization to the next level," says Bowdish. "We spent two years recovering and rebuilding, securing our financial stability…so all those things were leading up to the "what next?" The "what next?" is a community arts center in a community that's recognized as a 100 best small art town and continually being praised as an arts destination."
With more than a quarter of a billion dollars of arts-generated cash pumping through the local economy, building on that foundation isn't just smart, it's a fiduciary responsibility. Even so, the city of Beaufort has yet to fully embrace the concept of "art town" seemingly in spite of itself. Through the efforts of the ACBC, the city recently ranked number 14 in American Style magazine's poll of the top 25 American arts destinations in the "small towns and cities" category. Savannah and Charleston come in at 4 and 6, respectively in the "mid-size" column.
Bowdish and others view the new center as a means to mentor that growing economy. "The great thing about art – and there's such a vast range within the term "art" – the great thing is you don't have to be in New York City or Chicago to be successful in these fields," she says. "You can successfully accomplish your goals and your dreams within a community like Beaufort where you can be a big fish, where you can have a place and a presence and be known within the community."
Evans echoes that thought. "I really see Beaufort as being on the cusp of being something like the Taos, New Mexico of the Southeast. A lot of the pieces are sort of in place. Beaufort is poised to break out of its provincial view and become something that's more…national."
Bowdish believes it's all about rights: the right people coming together at the right time to make the right decisions. "It's absolutely imperative to have this center to build an arts-based business community. And now we have the right partner who understands our vision, our dream, our goal and is willing to support us through the growth process."
That process, according to one expert, involves a number of things including a little luck. "It's a matter of happenstance," says John Villani, "it's also a matter of government engagement in the form of some support at different stages." The best-selling author of The 100 Best Small Art Towns In America believes one word sums up a successful art destination, "Collaboration. I think communities have to make the most of what they have available to them in terms of existing resources," he explains. "I mean you just can't stop talking to each other, or stop planning together or stop using each other's resources to build a better future and a better home. There has to be that initiative or sense of enterprise that extends the welcome hand out from the arts community to others."
J.W. Rone has another buzz word to add to the list: sustainability. And that means keeping the arts affordable for the masses or as he likes to phrase it, "weaving the arts into the everyday life of Beaufort County."
We'll just call it Artworks.
For more information on the Arts Council of Beaufort County, visit their website at www.beaufortcountyarts.com
Seeking Common Ground: Beaufort County's Arts Summit
Monday, August 18th, at the Coastal Discovery Museum on Hilton Head Island, free & open to all Beaufort County artists, arts organizations and interested parties. A $10 box lunch is available, and RSVPs are a must: (843) 379-2787.
The agenda includes:
• Networking Continental Breakfast in the Garden
• "Working Together" topics, such as the state of the arts and ACBC's mission from JW Rone, executive director of the Arts Council of Beaufort County, partnership resources, and a demonstration of the local Kennedy Center Partners in Education relationship, with Kristy Callaway, executive director of the Arts Schools Network, and Jenny Rone, development director of ACBC.
• Networking lunch in the Garden.
• "Arts As Cultural Tourism" with Liz Mitchell of the Beaufort Regional Chamber of Commerce, and the presentation of the Economic Impact of the Arts in Beaufort County report.
• "Protecting Your Creation" discussion panel about intellectual property, with Helen Roper, an attorney in Beaufort, and Gregory Smith, National Press Photography Association.
• "Ethics & Fiscal Responsibility in the Non-Profit World" with Kathi Bateson, president of the Arts Center of Coastal Carolina, and Dr. Cindy Smith, the program director of the Community Foundation of the Lowcountry.
There's also a survey for everyone to take, whether attending the summit or not. So far, 66.7% of survery-takers agree: that they need help "finding a place in Beaufort Creative Economy," and that their philosophy is to "Always seek out change and betterment." The nine idea-provoking questions are fun to answer in a business-of-the-arts kind of way.
To take the survey, and for more information about the arts summit, please visit beaufortcountyarts.com