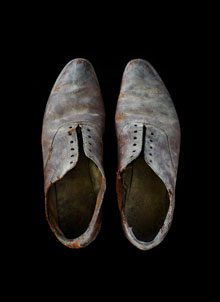 "The first impressions I had of Beaufort and its surrounding low lands have given way to something more nuanced. As the first year draws to a close the scent of familiarity comes in with the spring tide but I know I've barely scratched the surface. There's a lifetime of exploration to be had here."
– Jayne Parker
When photographer Jayne Parker left New York to spend a year in the Lowcountry, she knew she couldn't build a proper client base in that brief time – she specializes in portraits – but she wasn't about to sit around twiddling her thumbs, either. Not when her husband Arthur would be spending his days in historic downtown Beaufort, renovating one of the city's most celebrated houses.
Built in 1853, Tidalholm shares a storied past with other mansions on The Point, along with an extra dash of glamour thanks to its appearance in films like the The Big Chill and The Great Santini. According to Jayne, "John Tashjian, founder and principal of Centurion Real Estate, bought it as a home for his family, and asked if Arthur would like to oversee the renovation. When Arthur saw the historical and architectural importance of the house, its significance to the local community and stunning location, he knew this would be an incredible project to be a part of."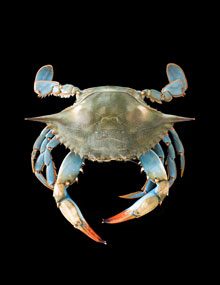 So in May of 2017, the couple found a house in Habersham and moved their lives south. "We were excited for this complete change of pace and lifestyle after years in Manhattan," she says.
A complete change of pace? Great. But Jayne had no interest in 'just chillin' while Arthur busied himself with The Big Chill House. She needed a project of her own. Thus was conceived 'A Year in the Lowcountry,' the collection of powerful photographs now hanging in Jayne Parker's Pop-Up Gallery at Habersham. The exhibit isn't exactly the one she envisioned a year ago. Of course, the Lowcountry isn't exactly what she'd envisioned, either.
"Coming South for the first time in the late spring I had a head of full of images of what this place might be like," she writes in her Artist's Statement. "However much research is done on the approach to a new life, books read, movies examined,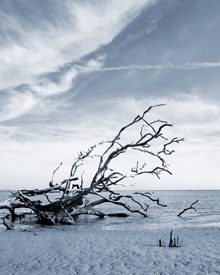 Instagram plundered, there is always the moment on arrival when a place suddenly swims into focus and presents as a whole for the first time. I was expecting humid but I hadn't accounted for the richness of the air and its assault on the uninitiated. I had seen the poetry of the marsh landscape but here was the low-tide revelation of primordial mud punctuated by oyster shells and the white of egret wings. I was intrigued by the trails of moss draped ghoulishly outside my bedroom window, blown to smithereens when Irma came to town. Everything was close to my idea of it and at the same time completely different."
Jayne, who had a 20-year career in nursing alongside her photography career, has also studied English literature and edited art publications professionally. It shows in her prose. Reading her Gallery Guide is almost as aesthetically pleasing as perusing her photography. And hearing her read it is a pure delight. Jayne Parker was not always a Manhattanite, you see, but hails originally from a small village in England. And as we all know, everything sounds better in a British accent. . .
Lowcountry Weekly: In your Artist's Statement, you say you've tried to capture something of the "duality" you see here in your new world. Can you elaborate on that?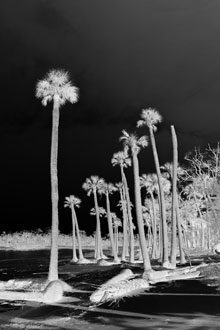 Jayne Parker: In one way, duality in the work can be explained as the tension between expectation and reality, or past and present perhaps. There is a looking out and the inward look informed by a story once heard or a past experience. The image 'Ghost Trees' is a good example of this – I didn't want to just make a beautiful landscape image on Hunting island – I wanted to tell a story about the fragility and resilience of nature on the barrier islands over centuries of battering from storms and hurricanes. By making a double faded image of the trees still standing along the edge of the lagoon I was referencing the trees lost to Matthew. I've always been taken with double, mirrors and multiples in my work – the Lowcountry project seemed to lend itself to that. 
LCW: How did your expectations of this place differ from the reality you encountered?
JP: My expectations were formed from secondary sources – movies, books etc. The reality has been richer and more complex – as it always is, I suppose, once immersed in a new place and culture. It has been such a learning experience,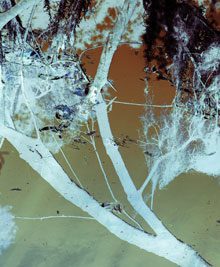 listening to people talk about the history and folk lore, learning about the natural environment, visiting local farmers markets to see the food produced, seeing the pride in the staples of Lowcountry life – the blue crab, the Spanish moss, the unique beauty of the landscape. I would say expectations have been exceeded! 
LCW: Having been here for a year now, would you say that "southern hospitality" is a real thing?
JP: We have been made to feel enormously welcome by neighbors and new friends made along the way. I've been blown away by the support shown for my project and by the number of enthusiastic visitors to the gallery. Southern hospitality is alive and well and reflected, I think, in the huge number of people who have chosen to relocate here from all over the country. I think it's also a little contagious – when one is welcomed so warmly to a place it makes you want to extend that welcome to everyone arriving after you!
LCW: While working as a photographer in New York, you specialized in portraits. We think the 'art photography' in this exhibit feels similar to portraiture in a strange way, even though your subjects aren't people. Are we onto something?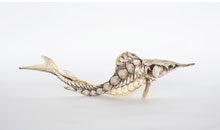 JP: I love that you saw that! Traditionally a portrait is the documentation of a face that tells a story  about the person – I think one can tell a story about a crab or sturgeon or even a mushroom in the same way. This series is a story of my experience and a love letter of sorts to the Lowcountry. The American photographer Minor White said "all photographs are self-portraits," and I think there's some truth to that, too.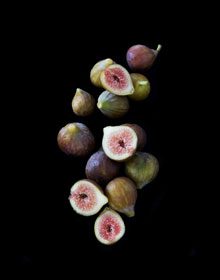 LCW: You and your husband have extended your stay here in Beaufort, to finish up the Tidalholm project, but eventually you'll be returning to New York. What do you think you'll miss most about the Lowcountry?
JP: First and foremost, the fried oysters, to which I've become dangerously addicted. There will be a sadness at leaving behind the friends we've made and lives we've been a part of during our time here. Going back to New York winters will be a wrench and as much as I love stepping out on a Manhattan street, I'll not forget watching blue heron glide over the marsh at the bottom of our lane.  
'A Year in the Lowcountry: Art Photography by Jayne Parker' will be on display through July 29th at 7A Market #1 in Habersham. Hours are Wed. – Sat., 11am-3pm and 5 – 7pm, and Sun. 4 – 7pm. To learn more about Jayne Parker and her work, visit www.jaynelouiseparker.com
 
The photograph at the top left is featured on our June 13, 2018 cover. The shoes were found beneath the bedroom floorboards of Tidalholm in Beaufort, SC – built in 1853 – during its recent renovation. Images copyright of Jayne Parker Studio.