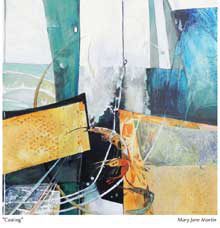 A new exhibit featuring the work of 35 Lowcountry artists – and curated by Joan Templer – opens at the USCB Center of the Arts on Friday, April 26th.
Featured artists include: Lynn Brown, Pat Connor, Phyllis Crimmel, Sandy Dimke, Joshua Ferguson, Ed Funk, Pam Hagan, Tricia Gardner, Eric Horan, Barbara James, Jacqueline Jones, Vickie Jourdan, Carol Kamm, Larry Kay, Mary Jane Martin, Lynne Darling Morgan, Audrey Montgomery, Ethelyn Morrison, Hetty Nijman, Sebastian Polansky, Arlene Peck, Kathy Rann Perry, Robert Ryzner, Beth Brya Oliver, Beverly Peacock, Karen M. Peluso, Polly Swenson, Joan Templer, Gay Torrey, Tommie Toner, Linda Tully, Tom Van Steenbergh, Patricia Walsh, Jeremy Way, and Cynthia R. Zeiss.
The public is invited to meet the artists at an Opening Reception on Friday, April 26 from 5:30 – 7:30 pm. For more information, call 521-4145.