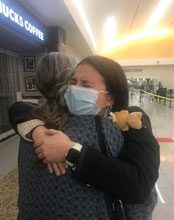 By Margaret Evans, Editor
March pulled a switcheroo this year – coming in like a lamb, going out like a
lion. A whole pride of lions, actually. And boy, did the month morph fast. My head is still spinning.
            Two columns ago, in early March, I casually wondered whether my husband and I should consider canceling our April trip to visit our exchange student daughter in Central Europe. There was this thing called Coronavirus, and it was starting to sound a little scary. But it was early days yet, and maybe it would pass. We decided to play it by ear.
            A week later, we canceled our trip and began wondering if we should bring our daughter home, ending her Rotary International Youth Exchange three months early, with the best of it still ahead of her – including her long-anticipated tour of Italy, France and Spain. What a shame that would be… Hmmm…  
            A week after that, I spent several days in a sheer panic – on hold for hours with our travel agent, fielding emails and paperwork – as the possibility of bringing her home at all seemed to be slipping through my fingers . . . 
            Fast forward.  Amelia's sitting on the sofa near me, on Day 3 of her 14 day self-quarantine, thumbing through a book about the Czech Republic – a gift from her host parents – reminiscing about the past seven months. 
            Just like that, she's home. 
            (It wasn't really "just like that," but I'm still traumatized by the memory of the past week, so I'll spare you the details.)
            My daughter is just one of millions of young people who've had their dreams dashed and hearts broken by the Covid-19 pandemic. Considering folks are losing their livelihoods, and their actual lives, to this beast, it's probably in poor taste – nay, downright tacky – to mention it, but proms and senior recitals and graduations and weddings are no small forfeitures, and I can't help feeling a pang of grief on behalf of our bright young things in this, the Springtime of Coronavirus.
            But even so, there is a strange sweetness to these days, isn't there? A kind of forced simplicity that comes almost as a relief? My daughter has been sitting at the kitchen table in the mornings, painting pictures and working a jigsaw puzzle . . . sitting with me on the back patio at dusk, telling me stories of her exchange . . .  driving herself to The Sands to watch the sun rise. (This last bit will pass, I think. She's still on European time, so dawn feels like noon.) My husband has been conjuring up culinary marvels in the kitchen and whacking weeds in the backyard. As for me, it's the same ol' same ol'… but more so. Reading, writing, birding… and walking. Lots and lots of walking.
            And what a glorious time of year it is to walk in the South Carolina Lowcountry. The marsh is greening, the birds are preening, the bushes are exploding in colorful bloom.
            (The only problem with that, of course, is the pollen piling up on our cars and in our throats. I'm sure I'm not the only one asking herself, "Is this the allergies I get every year, or do I need to be tested?" Personally, I'm holding out for fever.) 
            Lately, I've married two of my favorite pandemic pastimes – reading and walking – by downloading the Kindle edition of A Philosophy of Walking by Frederic Gros. One of France's leading intellectuals, Gros draws attention here to other thinkers in history who saw walking as central to their work and their very existence. Among others, he focuses on Thoreau, with his passionate isolation in Walden Woods, Rousseau, who could hardly think without walking, and Nietzsche, who saw his writing as utterly dependent on his walking.
            Gros describes his own experience of walking in nature like this:
            None of your knowledge, your reading, your connections will be of any use here: two legs suffice, and big eyes to see with. Walk alone, across mountains or through forests. You are nobody to the hills or the thick boughs heavy with greenery. You are no longer a role, or a status, not even an individual, but a body, a body that feels sharp stones on the paths, the caress of long grass and the freshness of the wind. When you walk, the world has neither present nor future: nothing but the cycle of mornings and evenings. Always the same thing to do all day: walk. But the walker who marvels while walking (the blue of the rocks in a July evening light, the silvery green of olive leaves at noon, the violet morning hills) has no past, no plans, no experience. He has within him the eternal child. While walking I am but a simple gaze. 
            Walking has long been an essential part of my own writing life.  Many of the ideas for this column come to me, as if by magic, while I'm hoofing it through the leafy streets of Pigeon Point or communing with egrets and alligators on the Cypress Wetlands Trail. Writing while walking is a very different experience from staring at a blank computer screen, willing the words to come. Thoughts, phrases, whole sentences often materialize, unbidden, like messages from the beyond. Gifts of grace.
            In the Springtime of Coronavirus, I have more time for walks than usual. So I'm trying to slow them down and stretch them out; make them less about exercise and more about seeing . . . and being. More about becoming "a simple gaze." 
            While compiling this issue of Lowcountry Weekly, it occurred to me that reading it is almost like taking a nice, leisurely walk. Gone is the events coverage that usually fills our pages; the spring art openings, book signings, plays and concerts have all been canceled, or at least postponed.  In place of that coverage are thoughtful essays by our regular writers – funny, informative, inspiring – all pondering our common predicament, all offering their ideas for enhancing the "social distancing" lifestyle. Debbi Covington's come up with an Easter Brunch menu for two. Sandra Educate's got some tips for spring planting. (To quote a popular Facebook meme, "Gardening has not been canceled!") Mindy Lucas takes a look at the Spanish Moss Trail, a social distancing destination that's currently more popular than ever. The Photography Club of Beaufort sent us the winning photographs from their annual Print Competition. You can't see the photos "in person" right now, but you can see them here. 
            And lest we forget, April is National Poetry Month. Over the next few issues, we'll feature the work of 14 local poets.  
            The poet T.S. Eliot called April "the cruelest month . . .  mixing memory and desire."  This April may feel a bit crueler than usual, especially for those on the front lines of this pandemic. For the rest of us – those of us merely stuck at home, dealing with anxiety, boredom, loneliness, and toilet paper deprivation – there are quiet gifts to be found in this uncommon season. In The Wasteland, Eliot wrote of spring rain that stirs dull roots. The coronavirus pandemic is raining on our parade. May it also stir our dull roots. 
Pictured above: A mother and child reunion in the Atlanta airport.
Margaret Evans is the editor of Lowcountry Weekly. Read more of her Rants & Raves here.