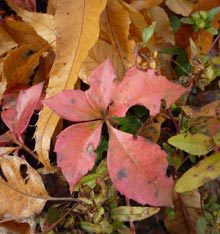 "She's as sweet as Tupelo honey." – Van Morrison
Driving up the back roads and highways of South Carolina we do see seasonal color. This past weekend was exemplary! There were fabulous yellows, pinks, purples, oranges and whites.
Commonly named Red maple, Scarlet maple, or Swamp maple (Acer rubrum) is a native tree which grows 40'-60' feet throughout the Midwest and most of Eastern North America. Michael Dir's Manual of Woody Landscape Plants says, "the only thing consistent about Red Maple fall coloration is the inconsistency from tree to tree; some remain almost green or at best yellow-green, others bright yellow, others flaming orange or red." In the South we don't get the brilliance of the color provided by named cultivars of maples like "Autumn Glory" but there is subtle beauty in the native species all the same. Pignut Hickory (Carya glabra), with its coarse texture of large, golden yellow pinnately compound leaf clusters is another native tree with brilliant color. They can grow 50'-60' on well drained sites and may spread 25'-30', giving the trees an open oval shaped crown. Two other trees better known for honey also exhibit great fall color. Sourwood (Oxydendrum arboretum) and Tupelos (Nyssa spp.) are spring bloomers that attract honeybees who turn their nectar into clear light honey. Both will have deep red and scarlet red foliage throughout October and November, but the spent blooms and leaf shapes are very different. Black Tupelo, Black Gum (Nyssa sylvatica) will grow on dry ridges and in swamps. The southern cousins are Water and Ogeechee Tupelo, and they are also distinguished by the size and shape of the leaves. Nyssa aquatica is found in floodplains and fresh water swamps and often has a tapered base. Tupelo is often hollow in the middle and may have resident bees. One local nickname is "bee tree". Honorable mention should also be given to dogwoods with the brilliant red fruits and reddish purple leaf color. Red oak species flaunt more reds and purples than the more evergreen laurel, water and live oaks.      
         Vines and shrubs are also putting on the last hurrah and are easy to pick out in the otherwise green landscape backdrop. One of the prettiest shows is put on by Virginia creeper (Parthenocissus quinquefolia). It is often mistakenly identified as poison ivy (Rhus toxicodendron) because of the leaf shape and size, but the leaflets are arranged in fives and poison ivy in threes. "Leaves of three, let them be." The salt myrtle (Baccharis spp.) is suddenly covered in white fuzzy blooms. This is another favorite of pollinators and beekeepers and naturalists. While very salt tolerant and seen growing on the edges of salt marshes, they are useful in xeric landscapes and can be found all the way across South Carolina.
         We see value in fall's beauty, but the ecological services that these native trees, shrubs and vines provide to wildlife is priceless.
On Friday December 5th from 9am-3pm, Clemson Extension Service will be giving away trees for Arbor Day at the Beaufort County Extension office 102 Beaufort Industrial Village Road, Beaufort. The limit is 5 trees per family, and species include: Cherrybark Oak, Bald Cypress, Tulip Poplar, and Longleaf Pine. Please call 843 255-6060 114 for directions. Visit the Clemson University Home and Garden website for holiday and seasonal topics http://www.clemson.edu/extension/hgic/plants/other/seasonal/