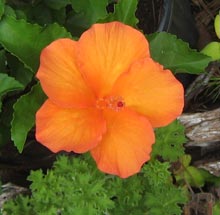 During the milder weather of spring, pastels shine in Lowcountry gardens. They almost glow against fresh, new green leaves. However, as the heat of summer bears down upon us, the pastels tend to fade out. By noontime, when the sun is high, they can almost look bleached. That is the time when the bright, hot colors like reds and oranges really pop. They also bring a tropical look that melds well with our palmetto dotted, moss-draped landscape.
Annually, an organization called the Pantone Institute proclaims a new "Color of the Year." I have no idea why this is important, how they decide or if anyone even cares, but they made a big fuss earlier this year with their most recent choice, Tangerine Tango, which they describe as "vivacious and appealing reddish orange." It reminds me of the glorious colors of a Lowcountry sunset.
For some reason, Tangerine Tango took off this year; I don't remember any previous colors that got so much press time. Many of the big growers focused their spring publicity on flowers in that shade. Recently, I heard a presentation about using this color in the garden and the presenter was dressed head to toe in – you guessed it – orange (the old fashioned name). I don't think I have ever seen a men's shoe in orange patent leather before, but apparently they exist. He paired orange flowers with bright blue containers, and even paired these hot colored plants with hotter hot pink ones in other containers. Sounds garish, but it worked, because this colorful character used other cooler colored plants to balance the heat. Ferns with different colors and shapes and airy plants like the Euphorbia 'Diamond Frost.'
The orangey flowers I see blooming right now include a vibrant, hot colored nasturtium whose blue green leaves temper the color. I am afraid the heat will soon cause that one to melt but in its place there will be tropical Hibiscus like 'Carolina Breeze' and "Susan's Sunset.' Lantanas 'Carolina Bright,' Desert Sunset, and the old standby 'Miss Huff' are bright and easy care. Canna 'Tropicana Gold' has lime striped leaves and hot, hot orange flowers. There are Marigolds in every shade and size; the one called 'Sunburst Orange Splash' does not set seed so it blooms for a long time. Let's not forget the common roadside day lily with its burnt orange flowers. For a shady spot there are the New Guinea Impatiens like 'Tango" and 'Infinity Orange.' The butterfly weed Asclepias usually loses its leaves to the monarch butterfly larvae, but the flowers are amazing. Then there are the coneflowers, coreopsis and the tithonias. Whew. All of these will add a burst of color to your garden and the hummingbirds will love you for giving them a treat. The best part is that a little orange goes a long way; you don't need to invest a lot to achieve the effect. The heat can always be tempered by combining these firecrackers with plants that have cooler colors either in their foliage or their flowers; pale blue Plumbagos come to mind.
Whatever color plants you have in your garden, be sure to remember to give them a light feeding this month. Things started blooming so early this year, and they have a long way to go, so a top dressing of compost or a bit of slow or timed release fertilizer is in order.
Every year the Beaufort Garden Club presents a gift to our community with their Garden-A-Day tours. Monday through Friday, June 4th through the 8th, a different garden will be open each day for your pleasure. This is, without a doubt, the best way to see which plants grow well in this area and to note how others might be using plants you already have. This year all the gardeners are Clemson Extension Master Gardeners and we will likely see some striking plant material. I'll be on the lookout for something in Tangerine Tango. I'll also be a docent at several of the gardens, hope to see you there.