Part 4: Do We Have the Tourism Assets?
The first question that Stu Rodman and I had to address is this. Do we have enough quality tourism assets to develop a strong fall season? Conceptually, a fall tourism plan that focuses on the entire Charleston to Savannah coast sounds great. But is it? We started by looking at these results. (Fig. 1)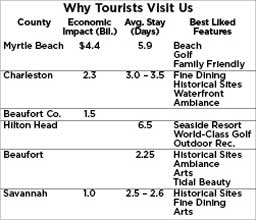 This table tells us a lot about the current strength of our regional market. Myrtle Beach delivers to South Carolina the biggest economic impact . . . over four billion dollars a year. Charleston is next at $2.3 billion. And Beaufort County is third at $1.5 billion a year. The lion's share of Beaufort County tourism revenue comes from Hilton Head tourism.
Notice a couple of points. Both Myrtle Beach and Hilton Head are unique destinations. Myrtle Beach targets the family, and mid-level income tourism market. Hilton Head targets the higher income vacationers who desire beach, water sports, and golf. However, Hilton Head gives this market all the finer accoutrements . . . finer dining and shopping along with a catalog of "other" options.
So what does this table show us that could be a basis for building a Charleston to Savannah tourism plan? It tells us this: Myrtle Beach and Hilton Head are unique destinations by themselves. But Charleston, Beaufort, and Savannah all have one thing in common. They draw the same type of customer. It's a tourist who wants to feel the southern ambiance. This customer wants to see our history and sense our Lowcountry aesthetics. This visitor appreciates the arts and enjoys fine dining.
The other point that this table seems to show is that Charleston and the town of Beaufort have fairly short tourism stays. Charleston is a world class tourist city. Yet, its marketing to date has only given it an average tourist stay of 3.0-3.5 days. That is not good news for Charleston's hotels. Beaufort suffers from the same problem. It seems to get visitors who only stay for a day or two. Hilton Head is another issue. It attracts a visitor who is willing to stay six days. But it seems to have done little to attract the fall tourist. This begs the questions: What type of tourist attractions would Charleston and Beaufort need to have its tourists stay longer? And what would it take for Hilton Head to have a fall season that's as strong as the summer?
The most important point that surfaces after reviewing this chart is this: We know that tourists go to Charleston, Beaufort, and Savannah for many of the same reasons. So, why don't we promote this entire Lowcountry area? Why don't we encourage these customers to stay longer? Why don't we encourage them to book a week or ten days here rather than a trip to the Caribbean Islands or Mexico's Cozumel?
Stu and I have asked these questions to the tourism directors of Charleston, Beaufort, and Hilton Head. The answer is disappointing. Both Charleston and Hilton Head Chambers follow a destination – directed marketing strategy. In other words, Charleston promotes Charleston. Hilton Head promotes Hilton Head. And Beaufort promotes Beaufort. In a way, it makes no sense.
There are many, many people who want to take a week or ten days and visit a number of unique destinations. There is no greater proof then when we look at the ocean cruise industry. Each year it generates 37 billion dollars for the U.S. economy. Over ten million North Americans take these cruises each year. And their cruises average over seven days long. These tourists do not want to travel to just one port. In 2010 The Cruise Industry published this report. It says it all. A huge part of the world's travelers want to travel to a number of "ports." Why? Because they want to go to unique destinations that offer multiple experiences: (See Fig 2, under Cruise Tourist %).
Let's ask ourselves one more question. If the "cruise" customers travel because they want this list of values, what could we offer them if we promoted the Charleston, Hilton Head, Beaufort, and Savannah as one inland cruise? Our answer can be found in Fig 2, in the column under Sea Island Assets.