Serious about helping yourself and the planet? World Food Garden helps you get growing, already! According to World Food Garden, during WWI and WWII, 40 percent of produce was grown in small gardens at home, and it's time to bring that figure back.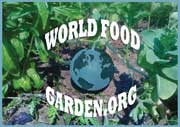 World Food Garden has launched Worldfoodgarden.org for gardeners and small farmers to promote a modern Victory Garden movement throughout the world by encouraging anyone with a little land, a rooftop, a balcony or terrace to start a vegetable garden. Eve Sibley, founder of World Food Garden, said, "It is time to begin cultivating lifestyles that are not vulnerable to downturns in the economy. Our aim is to provide a gathering place for those who garden and those who wish to learn to work the earth to grow their own food."
Sibley suggests that when considering Worldfoodgarden.org, people think of it as a Facebook to save the planet. "Food costs are soaring as the costs of production climb higher and higher with the price of oil," stated Sibley. "Our planet is in peril and our food supply is at risk because of the recklessly wasteful methods of large industrial farming. Petroleum-based fertilizers which endanger our water supply and ultimately strip nutrients from the soil are poured onto the large farms to beef up production. Then, food is shipped thousands of miles on gas-guzzling trucks, compounding our pollution and global-warming problems. "Worldfoodgarden.org seeks to teach you how to become independent of this harmful system: by building a healthier world right in your own backyard or even on your balcony. With your own small garden, you can help save the world, improve your health, save money and enjoy the best-tasting food you have ever eaten."
World Food Garden is devoted to bringing back the spirit of the Victory Garden to America and to spread it throughout the world. "We want to teach everyone how to garden."
The "Garden Calculator" available at the site provides site-specific advice about soil make-up and plants appropriate to each area. All users have to do is click their location on the Web site map and choose their veggies. Once a garden is started, gardeners can add a small carrot representing that garden to the World Map of Small Food Gardens. This map is configured to let browsers find ideas or connect with other gardeners for sharing tips, seeds, recipes, and whatever else they need to know or swap in quest of the perfect small vegetable garden.
Green philanthropists can use WorldFoodGarden.org to find other ecologically minded philanthropists in World Food Garden's data bank, joining forces in promoting the distribution of open-pollinated, non-GMO seeds to needy individuals and communities. Added Sibley, "As Worldfoodgarden.org gains in popularity, our Web site will serve as a major clearinghouse for all sorts of NGOs with an interest in supporting the growing local food movement and worldwide, non-industrial farm systems. A small packet of seeds, combined with improved knowledge and resources, can make the difference for the survival of a family in the poorest parts of the world."
Those already growing a food garden can encourage others to do the same by adding their garden to the World Food Garden Map. Worldfoodgarden.org can be used to create networks that assist less fortunate people to grow gardens, and watch as small efforts continue to spread exponentially on their own.
WorldFoodGarden.org offers:
• A world map (like Google Earth) where individuals, classrooms and small farms growing local food gardens, suppliers of non-GMO, open-pollinated seeds, and researchers, travelers and philanthropists can create profiles, network, and trace the impact of their efforts.
• Great visibility for non-GMO open pollinated seed
• A way to promote a diversity of seeds and non-GMO seeds
• Great visibility for garden organizations
•Source of information on plants and seeds.
• Great visibility for existing Garden Forums
• Great way to connect with others who are similarly inclined to take care of Mother Earth
• An easy tool for activists and philanthropists to create networks that make positive effects, socially and environmentally
• Easy networking between classroom gardens
• A way to keep track of anyone's effect on the world
In the works:
• Networking for gardeners to share tips, pictures and recipes
• A place to keep track of planting, fertilizing, other garden activities
• Tutorials for how to sustainably prepare soil, plant, maintain and harvest food plants • A full database of all non-GMO, open-pollinated seed varieties in the U.S.
• A clickable climate map, detailing which plants grow well in which places and the dates they should be planted for indoor and outdoor growing
• A "Garden Calculator" making advanced gardening techniques easy for new gardeners to use to help plan their first garden
• Full garden profiles including personal blogs, planting calendars, comments and messaging • A lunar phase calendar that makes suggestions for biodynamic growing To learn more, visit http://www.worldfoodgarden.org, call 706-639-3068 or e-mail sleve76@gmail.com.