Beaufort Memorial hosts Spirit of Women "Day of Dance"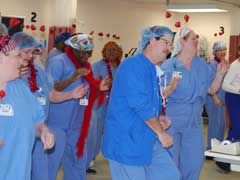 You can swing it, you can groove it, doesn't matter how you move it. Dancing, cardiologists say, is a great way to keep your ticker tocking.
In celebration of American Heart Month, Beaufort Memorial Hospital is hosting a Day of Dance on Saturday, Feb. 26 to get women out on the dance floor and in good heart health. The free Spirit of Women event will include mini ballroom and Latin dance lessons by Fred Astaire Dance Studio instructors, dancing demos and a wide range of health screenings and assessments.
BMH physicians specializing in cardiology, orthopedics, vascular surgery and gastroenterology also will be on hand to discuss women's health issues.
"I'm excited to be a part of an event that promotes movement and dance," said BMH cardiologist Dr. Thom Schultz, one of the physicians participating in the Day of Dance. "I hope our guests will be inspired to consider dance as a fun way to stay heart healthy."
The event is being offered in two sessions—10 a.m. to noon and noon to 2 p.m.—at the new Seaquins Ballroom in Bluffton. Dance instructors from the Fred Astaire Dance Studio will teach the waltz, tango, fox trot, cha cha, salsa, swing and meringue.
"Dancing is not as difficult as working out at the gym, but it works your body hard," said Fred Astaire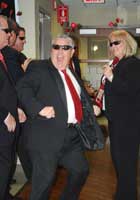 Studio co-owner and dance instructor Sandro Virag. "You're in constant motion and you're moving every part of your body, not just one set of muscles."
Bluffton resident Toni Wald lost 40 pounds since she began dancing five years ago. She also lowered her blood pressure and cholesterol.
"I just got into it and it felt good," the 66-year-old said. "It's been great for my arthritis. But I don't just do it for the exercise. I do it because it's fun."
It's the "fun factor" that keeps people jumping and jiving to better health.
"It doesn't feel like you're exercising, so you're more likely to stick with it over time," said Courtney McDermott, who is helping coordinate the Day of Dance program for BMH. "And it's something anyone can do, regardless of age."
During the event, Beaufort Memorial clinical specialists will be conducting health screenings and assessments designed to evaluate an individual's risk for cardiovascular disease—the No. 1 killer of women in the United States.
The Beaufort Memorial program also will focus on bone and pelvic health and will feature a presentation on "Leona" da Vinci, the cutting-edge robotic surgical system being used by BMH surgeons to perform minimally invasive laparoscopic hysterectomies.
Some 75 hospitals in the Spirit of Women network will be hosting Day of Dance events across the United States as part of a national initiative to encourage women to take action to improve their health.
For more information or to register for the Day of Dance, visit www.bmhsc.org/spiritofwomen or call 522-5952.