Bored of the same old exercise routine? Spice it up with a little salsa.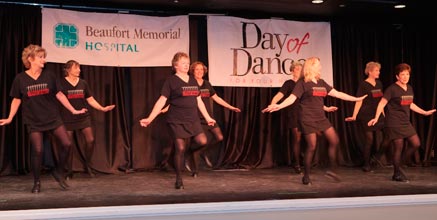 Beaufort Memorial Hospital will be offering mini-classes on the Latin-influenced dance as part of its 4th annual Dance for Your Health, a free wellness event aimed at getting you on your feet and moving to good health. The event will be held at Sun City's Pinckney Hall, 114 Sun City Lane, from 9 a.m. to noon Feb. 22 and is free and open to the public.
"We designed the wellness program around dancing to demonstrate how you can incorporate fun activities into your life to improve your health," said Emily Harris, who is helping coordinate the event for Beaufort Memorial. "Dancing can offer tremendous health benefits both physically and mentally."
In addition to the dance lessons and demos, BMH experts in nutrition, cardiology, gynecology, orthopedics, vascular, urology and robotic surgery will be available to answer questions.
New this year, BMH board-certified specialists will also be presenting short seminars on a variety of medical topics from reducing joint pain to strengthening your heart. The lineup will include vascular surgeon Dr. Chad Tober, urologist Dr. Michael Staley and orthopedists Drs. Edward Blocker and Kevin Jones. For a complete schedule of the seminars, go to www.bmhsc.org.
Attendees also will get the chance to check out Beaufort Memorial's da Vinci Si surgical system. Ob-gyns Drs. Pat Thompson, Gregory Miller and Christopher Benson along with urologist Staley will demonstrate the capabilities of the advanced computer-controlled robotic technology being used in the hospital OR to perform minimally invasive procedures, including hysterectomies, laparoscopic prostatectomies and single-site surgery to remove the gallbladder.
In addition, free blood pressure and glucose screenings and $10 cholesterol tests will be offered. If you plan to have the glucose or cholesterol tests, be sure to fast after midnight the day of the event.
Of course, there will be dancing!
"The old adage is true—you've got to move it or lose it," said Dr. Blocker. "To maintain healthy bones and joints, I encourage people to participate in activities where you have a fluid range of motion with low impact."
Instructors from Bluffton's Fred Astaire Dance Studio will be teaching participants how to salsa, shag and Zumba during 20-minute dance classes will be offered every half hour in the pavilion adjacent to the hall. Instructors will teach some basic steps as an introduction to the different styles of dancing.
Exhibition dancing will be presented every half-hour on the theater stage. The entertainment will include several local groups, among them The Beaufortettes, Sun City Cloggers and Family Sliders. In addition, professional dancers from Fred Astaire Dance Studio will kick off the event by performing a choreographed Dancing-with-the-Stars-style ballroom number.
"The great thing about dancing is that you don't even realize you're exercising," said Fred Astaire Dance Studio owner and instructor Armando Aseneta. "You're thinking about the music and the steps and not how hard your muscles are working."
Dancing for Your Health is free and open to both Sun City residents and non-residents, but registration is required. To sign up, visit www.bmhsc.org and click on the event banner on the home page or call (843) 522-5957.