Holy Trinity Classical Christian School is hosting a lecture series on C.S. Lewis's book The Abolition of Man. The Rev. Joe Lawrence will lead the two-night series from 6 to 7 p.m., Tuesday, Feb. 21 and Tuesday, Feb. 28, on the main campus at 302 Burroughs Ave.
This series is open to the community and is free of charge. Registration is required. To register, go to the school's website at www.HTCCS.org and see News & Announcements on the homepage or use the quick link.
Lewis's The Abolition of Man is a thought-provoking and timely exploration of the role of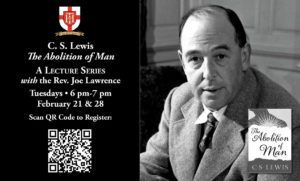 education and morality in shaping our world and our place in it. It is a must-read for anyone interested in the intersection of education, morality, and the future of humanity. Lewis discusses the importance of objective moral truths and the role that education plays in shaping our moral compass. Children are not born with an innate understanding of the moral impulses they should follow; this faculty must be nurtured in them by their parents and teachers.
He argues that there are certain moral virtues, such as courage and compassion, that are universal and timeless, and that education should be focused on instilling these virtues in students. Over the course of two evenings Rev. Joe Lawrence will illustrate how Classical Christian education is the remedy to prevent the abolition of man. For more information about this lecture and future lectures, please contact Celeste Pruit, Director of Advancement, at cpruit@htccs.org or call her at 843-379-9632.