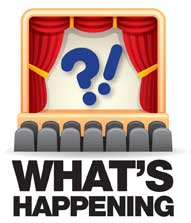 Theater/Film/Dance

3/19 – 3/21, All Shook Up, an Elvis-inspired musical presented by Hilton Head Christian Academy's (HHCA) award-winning theater department at HHCA's Performing Arts Center. Tickets can be purchased at hhcadrama.eventbrite.com.

3/19 – 3/21 & 3/26 – 3/28, Cry It Out, a dark, gritty comedy presented by Lean Ensemble Theater. HHPS Main Street Theatre, 3000 Main Street, Hilton Head. Tickets: $40. Students and Active Military $15. Preview night (March 19 only) $25. Group rates available. Tickets and information: 843-715-6676 or www.leanensemble.org
Weekends, 3/20 – 3/29, Always a Bridesmaid presented by Coastal Stage Productions. Performances are at 8 pm Fri and Sat, with 2 pm matinees on Sun. An Opening Night VIP Event, (Catered by The Kitchen) will be held Fri 3/20 at 7pm. Reserved Tickets are $20 – $25: VIP $30. For more information and to purchase tickets, visit www.CoastalStage.comor call 843-717-2175.
4/4 & 4/5, Terpsichore, Hilton Head Dance Theatre's exciting program of classical and contemporary dance featuring company members and distinguished guest artists. Sat at 7:30 pm and Sun at 2:30 pm. Tickets available at the Arts Center of Coastal Carolina box office located at 14 Shelter Cove Lane or by calling 843-842-2787. For more information and to purchase tickets online, visit www.artshhi.com
Galleries/Art/Museums

Now – Fri 3/27, Regeneration artwork by Mary Robinson, at the Sea Islands Center Gallery, 1106 Carteret St. Beaufort. Closing Reception on Fri, 3/27, from 5 to 7:30 pm, with a gallery talk at 6 pm
Now – 3/28, Photographic Journey of the Lowcountry, an exhibit of work by Kendra Natter at Art League Gallery. Artist Reception Wed, 3/11, 5-7pm. The show and the reception are free and open to the public. Located inside Arts Center of Coastal Carolina, 14 Shelter Cove Lane, Hilton Head Island, 843-681-5060
Now – 4/6, What It Means to be Free: Art by Women of Color are USCB Center for the Arts Gallery , 805 Carteret Street, Beaufort SC 29902. 843-521-3145 or www.uscbcenterforthearts.com
Now – 4/26, Hot Wax, Cool Paintings, the works of Anne Kennedy, featured at the Beaufort Art Association (BAA).  Opening reception Fri 3/6, 5 – 8 pm.  913 Bay Street, Beaufort. www.beaufortartassociation.com
3/31 – 4/25, Abstract Art X 3, an exhibit of work by artists Rose Cofield, Jennifer Rocco Stone and George Watson, at the Art League Gallery on Hilton Head. Artist Reception Wed, 4/8, 5-7pm. Each artist is offering a talk or demo—Watson on Tues, 4/7 at 12:30pm (talk); Cofield on Mon, 4/13 at 1pm (demo); and Stone on Wed, 4/15 at 11am (talk). The show, reception, and talks and demos are free and open to the public.
4/3 – 4/30, Seeking Solace, mother/daughter art & poetry exhibit featuring the work of Beth and Hailey Williams. Main gallery at Atelier on Bay, 203 West Street, Beaufort. Opening 4/3, with a poetry reading at 5pm and reception at 6pm. Entry is free, and all are welcome!
Writers/Bookstore Events

Sat 3/21, Cynthia Hammer will sign her third novel, The Seven Riders, a sequel to the popular YA novel Iceburg. Cynthia, actress and radio host of the Hammer Away show, will be at McIntosh Bookstore in downtown Beaufort from noon – 3 pm.
Tues 3/24, Cassandra King Conroy will speak about her memoir Tell Me a Story: My Life with Pat Conroy, as part of the Rose Hill Author Series. The literary luncheon at Oak Terrace at Rose Hill (4 Clubhouse Dr., Bluffton) is open to the public. Register for $25 online by March 20 at https://rosehillauthorseries4.bpt.me.
Tues 3/24, The Pat Conroy Literary Center Book Club hosts the Pulpwood Queens book club as they discuss the posthumously published A Lowcountry Heart (2016), by Pat Conroy. 905 Port Republic St. at 5:30 pm, this special event is free and open to the public.
Tues 3/31, Books Launch for Lynn and Cele Seldon's 100 Things to Do in Savannah Before You Die and the 2ndedition of their bestselling 100 Things to Do in Charleston Before You Die. Wine and light refreshments will be served. Books will be available for sale and signing. This event is free and open to the public, from 5:30 – 7 pm, at the Conroy Center, 905 Port Republic Street. For more information, call 910-274-8070 or visit www.patconroyliterarycenter.org
Wed 4/8, Grady Hendrix's Dance of the Glampires, celebrating his new novel The Southern Book Clubs Guide to Slaying Vampires, from 5 – 7pm at NeverMore Books. www.nevermorebooks.com 
Tuesdays, 4/14, 4/21, 4/28, Poetry of Inspired Experience, a three-part workshop aimed at re-seeing and reclaiming the seemingly ordinary, shadowy, and half-forgotten aspects of our lives as poem-worthy sources. The workshop will be held from 6 pm to 8 pm at the Pat Conroy Literary Center in Beaufort. Space is limited to 10 people and  two full scholarships are available. Those interested in applying should email a brief statement of financial need by March 15 to course instructor, Emily Davis-Fletcher, at emilydfj@gmail.com. Fee is $100. For full information and to register visit: https://inspiredexperience.bpt.me
Second Thursday of Each Month, Writers' Open Mic at Common Ground Coffee House and Cafe in Beaufort. Sign up at the door as you arrive. Readings are limited to 3 minutes (that includes any intro or set-up!), with as many readers as can fit in 1.5 hours! All genres of writing are welcome and listeners are encouraged to attend. Co-sponsored by the Lowcountry Writers Group (a chapter of SC Writers Association) and the Pat Conroy Literary Center. For more information, call 843-441-1016.
Music

Sat 3/21, Sherma Andrews' Tribute to Legendary Lady Singers, USCB Center for the Arts. 7:30 pm. Adult tickets $35, Senior/Military $30, Students $15 available at www.uscbcenterforthearts.com or at the Box Office located at 801 Carteret St. in historic Beaufort.
Sat 3/21, Fort Fremont History Series, 10:30 am, Theodore Panayotoff AKA "Sgt. Ted" will present the History  of Coast Defense. Fort Fremont is the last fortification built on the Port Royal Sound marking the end of a 350-year-old legacy of coastal fortifications. The French, Spanish, British and others built coastal fortifications to defend their territories in the New World. Sgt. Ted will use examples of coastal defenses along the North and South Carolina coast to illustrate the early history of coast defense. Lectures are free and open to the public.  St. Helena Public Library, 6355 Jonathan Francis Senior Rd. For more information call the St. Helena Library at 843-255-6487. 
Sun 3/22, Singer/songwriter Rebecca Folsom will perform in the Fripp Island Community Centre, 205 Tarpon Blvd, Fripp Island at 5 pm, followed by a catered reception. Admission at the door is, cash or check only, adults $30, children and students free via the Peg Gorham Memorial Fund. For more information visit www.frippfriendsofmusic.com 
Fri 3/27, 'Music, by George,' Hilton Head Choral Society's spring concert, featuring music from George Friedrich Handel to George Gershwin and many George's in between. Performed by an 85-voice chorus and an orchestra. Tickets are $25 – $40 for adults and $10 – $20 for children. Buying tickets in advance is strongly suggested. All seating is reserved. To purchase tickets or for more information, call 843-341-3818, visit www.hiltonheadchoralsociety.org, or email tickets@hiltonheadchoralsociety.org.
Other Events

Fri 3/20, at Habersham Marketplace's Third Friday celebration, Habersham will open its Discovery Trail, blazed with birdhouses to guide visitors through Habersham's Marketplace and into Habersham's award-winning New Urbanism landscape. Habersham's Discovery Trail gives guests a taste of its walkable neighborhood, amenities, restaurants, retail shops, and health and wellness businesses. 4 – 7 pm.
3/21, 3/28, America's Boating Course will be offered by America's Boating Club of Beaufort. 8 am – 1 pm on three Saturdays in Port Royal Town Hall (700 Paris Avenue, Port Royal).  Learn the basics of recreational boating in this National Association of State Boating Law Administrators (NASBLA) approved class. Satisfies South Carolina Boating Educational Course Requirements. Many boat insurance companies offer discounts to graduates. Price: $75, includes book and navigation tools; additional person in household sharing the book is $17. Contact: hlontz@yahoo.com
Sat 3/21, 25th Annual Wingfest, from 11 am -5 pm at Shelter Cove Community Park on Hilton Head.  20-25 local restaurants will compete. Kid's zone, rock climbing wall, bungee jump. March Madness game on the big screen provided by Custom Audio Video. Vote for your favorite wing. Wing eating competition. Live music by Bobby Lee and The Magpies, Deas Guyz and The Naked Karate Girls. www.islandreccenter.org or 843-681-7273.
Tues 3/24, Lowcountry Job Fair at Beaufort National Guard Readiness Center, 1 Calvary Lane, Beaufort (on Hwy 21 next to MCAS). Sponsored by TCL. Come dressed and ready to connect with local employers and resources! For more info, call 843-525-8224.
Fri 3/27, Game Day at St. John's Lutheran Church on Lady's Island. Mahjong, Dominoes, Cards, Cribbage. Any game you and your team want to play! Donations $20 a person, includes lunch, snackes and drinks. Opens at 11:30 am. Reservations required. 843-525-1492 or misstea29902@gmail.com
Wed 4/1, Community College Month Kick-Off. TCL New River Campus, 100 Community College Dr, Bluffton. 5 – 7pm. Remarks at 5:30 pm.
Saturdays, 4/4, 5/9, 5/16, 6/27, 7/18, 8/22, 9/12, 10/24  and 11/21, CPR Classes at The Wardle Family YMCA, located at 1801 Richmond Ave in Port Royal. 8am-12:00 pm. Cost is $35 for this YMCA certified course and those interested need to register at the Y as space is limited and filled on a first come, first serve basis. Questions? Contact Lou Bergen, Aquatics Director to register for this class. Call the Y:  843-522-9622 or visit: beaufort-jasperymca.org
First & Third Tuesday, Beaufort Toastmasters Club meets from 5:30 pm – 6:45 pm in the Beaufort College Building, Rm. 103 (USC-Beaufort Campus), 801 Carteret Street, Beaufort. To learn more visit www.beauforttoastmastersclub.toastmastersclubs.org
First & Third Wednesday, FREE Acupuncture for Veterans (Veterans, Active Duty, Transition, Their Families and First Responders are Eligible) 4 – 6pm. Walk In Clinic. No Need to Pre-Register or Call. Nourishing Health Acupuncture and Herbs Clinic. 1214 Prince Street, Downtown Beaufort
Thursdays and some Tuesdays, Tours of the Historic Hunting Island Lighthouse sponsored by the Friends of Hunting Island. Keeper Ted and his team will tell you all about the history of the Lighthouse which was built in 1875 and is the only Lighthouse in South Carolina open to visitors. If you are at least 44 inches tall you may also climb the 167 steps to the top of the Lighthouse for a 360 degree view. Reservations are recommended by calling the Nature Center at 843-838-7437. Tours are $2 a person and park entry fees apply.
Third Thursday, TECHconnect, a monthly networking event for professionals working in and around technology. Come and join the conversation at BASEcamp 500 Carteret 5:30-7:30pm. (No event in December. Will resume in January.) 843-470-3506. www.beaufortdigital.com
Thursdays, History Tours of Fort Mitchel by the Heritage Library, 10am. $12/Adult $7/Child. 843-686-6560.
1st Saturday of Every Month, Maye River Quilters meeting at Palmetto Electric Cooperative, 1 Cooperative Way, Hardeeville. Members meet at 9:30 a.m. for social exchange. The meeting starts at 10 a.m. We welcome new members. Please call 843-707-6034.
3rd Saturday of Every Month (starting 10/19), YMCA Puppy Plunge from 9 – 11 am (weather permitting) at the Y outdoor pool (1801 Richmond Ave., Port Royal). Pups can splash, swim and play in our safe, enclosed outdoor pool area. The cost is $10 per pup and all proceeds benefit the Y's Learn to Swim program, which teaches local children and adults to swim at a reduced cost or for free. Dogs must be well behaved, current on all required vaccines and leashed until inside the pool area. Owners must be present at all times and humans are not permitted to swim in the Puppy Plunge. beaufort-jasperymca.org or call 843-522-9622.
4th Saturday of Every Month, While Fort Fremont is closed during the construction of an Interpretive Center, the Friends of Fort Fremont is presenting historical lectures at 10am at the St. Helena Library. The first lecture will be "Bringing History to Life, Fort Fremont Dioramas" by Dennis Cannady, Master Modeler. For more information call the Library at 843-255-6487.
Farmers Markets

Bluffton Farmers Market – Thursdays 2-7pm. Calhoun Street, downtown Bluffton. Call 843-816-6131 for information or www.farmersmarketbluffton.org
Penn Center Farmers Market – Saturdays 10am–3pm, through November. Vendors contact Johnnie Wilson at 843-838-7105 or stop by the Welcome Center.
Port Royal Farmers Market – Saturdays 9am-12pm, year round. Heritage Park off Ribaut Rd. at the Naval Hospital. www.portroyalfarmersmarket.com